…Beta was jumping up and down in front of me and alerting for me – having never even met me before!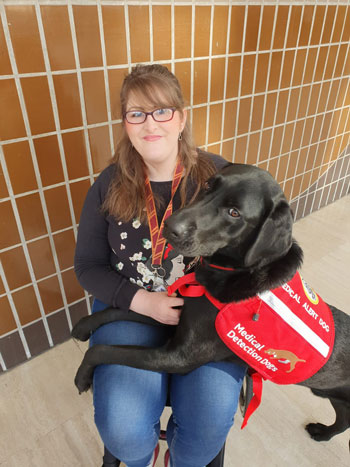 Gemma describes her Medical Alert Assistance Dog, 3-year-old Labrador Beta as 'a loving companion- who saved her life when all felt lost'. Gemma was diagnosed in 2016 with complex health conditions such as Postural Orthostatic Tachycardia Syndrome, known as PoTS for short, which leaves her liable to black out without warning at any time and Ehlers Danlos Syndrome that leads to frequent dislocations.
Working in a busy school, Gemma never thought that taking a dog to work would ever be achievable, but Gemma completed her Medical Detection Dogs application.   
The placement process happened very quickly for Gemma due to Beta being ready for placement. Beta's first alert for Gemma happened the first time they met during her first handling day in a room of applicants, some of whom had the same condition: 'You watch videos of dogs alerting others, but it didn't feel possible that it could work for me, but then Beta was jumping up and down in front of me, and alerting for me having never even met me before!' 
Beta pre-alerts for Gemma so that she can make herself safe and avoid unconscious black outs. This has been invaluable for bathroom trips as this had been a difficulty due to the postural movements when transferring. The pre-alerting Beta provides means Gemma can delay a bathroom trip to avoid unconsciousness. 
Beta has embraced the school environment. He goes everywhere with Gemma at work and even sits at the front of the classroom ready to alert whilst she teaches. 
Before Beta came into Gemma's life, multiple 999 calls had to be made, some of which ended up in hospital admission. The presence of Beta makes Gemma feel safe to go out and be independent, regaining some control over her life which her complex needs had taken from her. 
'We are so grateful to Medical Detection Dogs – Beta is a part of me and my husband's family and is loved so very much for his life saving powers – I dread to think what my life would be without him in it'