I can't imagine life without him.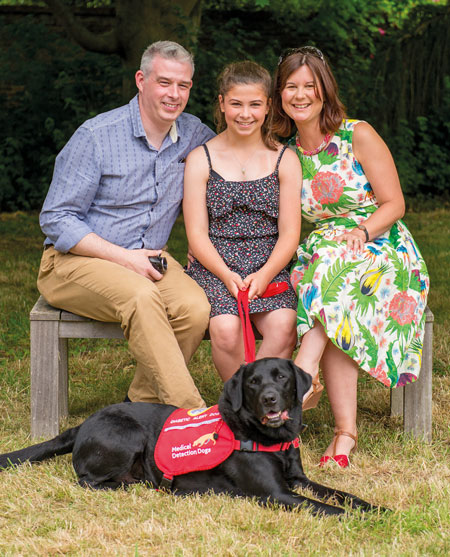 Gemma was diagnosed with Type 1 diabetes a month before her third birthday. Although Gemma was lucky enough to receive an insulin pump, she battled with poor hypoglycaemic awareness. This is when her blood sugar levels drop dangerously low, and often she does not feel the normal awareness signs. To try and catch these hypos we used to test up to 15 times throughout the day and night. As her parents we often set the alarm clock up to 3 times throughout the early hours to measure and prevent night-time hypoglycaemia, as Gemma never wakes when she is having night-time hypos.
When Gemma first read about Medical Alert Assistance Dogs she was very excited to think how this would make such a difference to her daily life and how a dog with this training could keep her safe and healthy. We soon completed an application. We advised her not to get her hopes up too high as we knew the charity was in its infancy and we could only imagine the demand that was being put on them. A year or so on we were really excited to get a call from the charity, inviting us for an interview. When Gemma learned that she had been accepted onto the waiting list we were all over the moon.
A few weeks passed and then we received an email to say that they had a possible dog for Gemma, a black Labrador called Polo. Polo is one of the family. Not only does he alert to Gemma's blood glucose levels, but he is great fun to be around. A really important date was when Polo alerted during the night to Gemma having a hypo. He came into our bedroom and came up to me, I knew he was telling me there was a problem – we tested Gemma's blood and she was 3.6! Gemma describes having Polo, "He is my new best friend. I love him so much. We have great fun running through puddles and playing ball. He makes me feel safe and confident – I can't imagine life without him!"
There have been times when it has been hard to manage her condition. She has been admitted to hospital on several occasions, when complications have occurred and we haven't been able to manage the diabetes at home. Social activity can be hard to manage. Gemma said to us that having Polo her Medical Detection Dog is the best thing that has happened to her! He has such a lovely nature, placid and funny at the same time.
He has made a difference to all our lives. Not only does Gemma feel safer and more confident, at night we can sleep easier, knowing that Polo will come and wake us if there is something wrong with Gemma's blood glucose levels. We thank the Medical Detection Dogs Charity and we thank God for Polo.