Molly is a very clever, cuddly and loving dog who makes our lives so much better.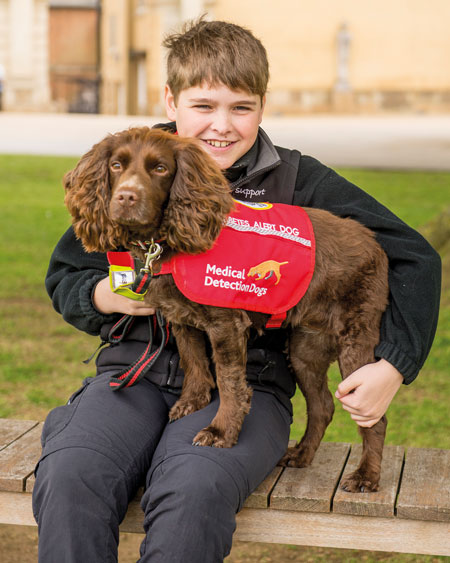 Steven, from Ambrosden, near Bicester, was diagnosed with Type 1 diabetes at the age of 3, a condition that has been difficult to keep under control.
After a chance encounter with Medical Detection Dogs, Molly, the family's 2-year-old working cocker spaniel, was trained as a Medical Alert Dog. Today, Steven and his family are enjoying a fuller, more relaxed life knowing that she is there to watch over him. This is their heartwarming story.
Steven's mother, Serena, describes the period after his diagnosis in 2006 when her little boy would become very lethargic and thirsty. "It was a frightening time and a steep learning curve for us. We stayed in hospital for a few days whilst we learned how to test blood glucose levels and inject insulin."
Following his hospitalisation, Steven would worry about going anywhere new in case he became unwell. "He relied completely on me to be with him at all times, and became anxious if I went out even for a short time and his Dad was in," says Serena. Steven looked for constant reassurance about his blood sugar levels, changes in which would make him grumpy, unfocused, thirsty and tearful. "He wanted my help but, because of his low mood, would resent me checking him so often."
It was by chance that the Courtneys encountered the notion of a diabetes alert dog. "Ours is not a classic pairing story," says Serena. "We had Molly as a puppy and Steven took training classes with her as she was quite the mischievous pup!" Medical Detection Dogs gave a talk at the club, and the presenter, Susie, came over to talk to Steven about his diabetes. It surprised the Courtneys when she told them she thought that Molly might know when Steven was low.
Serena admits she was sceptical at first, as Molly had never been trained in this way, but as they watched her over the next few weeks, they noticed that she would become unsettled and more attentive to Steven when he was hypo, though not consistently. "We placed a training application with the charity and it really made our Christmas last year when we were invited to headquarters to find out we'd been accepted."
Steven and Molly already had a good bond – helped by the fact he'd taken responsibility for her training from the first day – and their Medical Detection Dogs programme has really cemented the partnership. According to his Mum, the pair adore each other and Molly worships Steven.
Part of Molly's training has focused on rewarding her for correctly alerting. Serena says, "She finds the whole thing exciting, especially the 'high value' rewards we give to make it clear when she's done a good job – for her that's a cocktail sausage!"
With Becky and Simone from Medical Detection Dogs visiting the pair at home to support the training, Molly's accuracy at alerting has increased steadily through the programme. Serena would also make detailed notes of Stevens' hypos, Molly's reactions and tests given to track progress.
Public access training also took place under Becky's instruction, helping Serena manage holding the lead as well as handling money and shopping, which at first was quite nerve-wracking. Sometimes Molly had other ideas, showing particular interest in any cuddly toys spotted while out and about. Much to their neighbours' amusement, the family had to put Molly through a 'teddybear avoidance exercise' by lining them up along the street and walking up and down until she ignored them!
Molly qualified in her training in September 2012 and now confidently alerts to Steven's hypo and hyperglycaemia (low and high sugar levels), meaning he has a much better control over his diabetes. "We're catching rises and falls much quicker due to Molly's alerts," says Serena. "We very rarely have issues with him being irrational or falling now."
Before Molly, Steven's parents would worry most about him not waking from a hypo during the night, and potentially having a seizure. Serena would wake up every two hours to check his levels, putting her under significant strain. "For a time I thought about nothing but blood glucose levels, alarms, patterns and doses. Steven would become anxious and upset, so I'd often sit by his bed and end up falling asleep exhausted in the early hours."
Molly now sleeps with Steven in bed – which they are both equally pleased about – and he is more relaxed at night having her to cuddle. This has put Serena's mind more at rest and she is now able to get more sleep. "I still need to do routine checks and tests when she alerts but I'm not constantly wondering what will happen or what his levels are."
Molly does a fantastic job out of the house too, joining Steven for shopping, days out, playing sport or trips to restaurants. Steven remarks, "She knows when she's working and is very serious when wearing her red jacket!" Molly has even managed to alert him from the sidelines while he was playing football.
Serena believes that any family in similar circumstances would benefit from a trained dog who can provide invaluable alerts. Steven now spends less time in hypo and experiences fewer drops in the first place as Molly is spotting them early. "Knowing that he spends more time than ever 'in range' is incredibly reassuring for us at all times of day and night. Having a Medical Alert Dog has made us more confident in doing what needs to be done for both Steven's short and long-term health."
Serena adds, "Molly is a very clever, cuddly and loving dog who makes our lives so much better. I can even go out for a couple of hours now without Steven getting anxious. We are a much calmer household thanks to Molly!"
Serena wanted to say a big thank you to everyone at Medical Detection Dogs for all their hard work in training these dogs to make such a big difference.