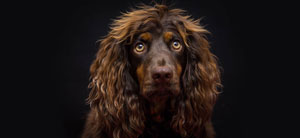 Why our work is so important
The UK has one of the worst cancer survival rates in Europe – because of late diagnosis. At Medical Detection Dogs we believe our research will help early diagnosis improve in the future.
Medical Detection Dogs uses the amazing power of the dog's nose to detect human diseases. Our research is based on the dog's ability to detect minute odour traces created by diseases.
Because dogs are able to detect tiny odour concentrations, around one part per trillion (the equivalent of one teaspoon of sugar in two Olympic sized swimming pools), we are potentially able to detect diseases, such as cancer, much earlier than is currently possible. Our pioneering work could help to speed up the diagnosis process and impact on thousands of lives.
We are very excited and proud to be carrying out an NHS ethically approved study into the dogs' ability to detect urological cancers using their sense of smell. Alongside the urological study we are running the first NHS ethically approved proof-of-principle trial exploring the ability of dogs to detect breast cancer and have interest from many in the medical profession on the potential to detect other cancers such as lung and colorectal cancers. Our cancer work has two main aims:
To assist scientists through our research into the development of electronic systems (E noses) that will assist in the early detection of cancer through cheap non-invasive tests.
In the short term, our cancer dogs could provide additional testing for cancers that are currently difficult to diagnose reliably, such as prostate cancer.
Bio-detection research areas
Prostate cancer is the most common cancer in men.
Over 42,000 men are diagnosed with prostate cancer every year – that's more than 110 men every day.
Every hour one man dies from prostate cancer – that's more than 10,500 men every year.
1 in 8 men will get prostate cancer.
Over 330,000 men are living with and after prostate cancer.
Early diagnosis of prostate cancer is one of the most effective ways of tackling the disease, but current tests are less than ideal, often requiring unnecessary biopsies to confirm a diagnosis. Our very exciting research is demonstrating that dogs can detect urological cancer VOCs earlier, and with greater accuracy, than current test methods. More information
Breast cancer is the most common cancer in the UK.
Breast cancer is the name given to cancers that have first developed in breast tissue, but there are many different types.
Around 50,000 women are still diagnosed with breast cancer each year.
More than 80% of women with breast cancer are still alive five years after diagnosis.
Around 12,000 women die of the disease each year.
We are currently carrying out the first ever proof-of-principle study that breast cancer can be detected on a breath sample. Whatever the outcome of our study, the research will be invaluable in helping inform future testing and research into breast cancer. More information
Other diseases
In addition to urological cancers and breast cancer, we are currently exploring the possibility that the dogs can detect a number of other cancers and diseases, including:

Lung cancer
Animal cancers
Parkinson's Disease
We are also carrying out research, alongside our Medical Alert Assistance Dogs, into other diseases that dogs might be able to detect from scent.