Super Sniffers – Live!
An experience with Medical Detection Dogs
Medical Detection Dogs save lives using their amazing sense of smell – their noses know the odour of disease and are faster, more accurate and less intrusive than any other bio sensors on the planet.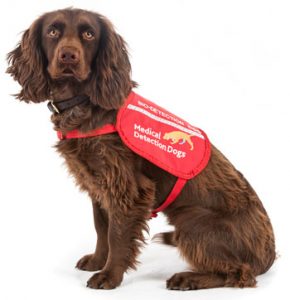 We're very excited to once again be opening our doors to members of the public who are interested in learning more about our work and seeing some of our dogs in action. We're launching a series of welcome days at our centre where you'll be able to watch a Bio Detection dog at work, meet a Medical Alert Assistance Dog and hear from their client how they make a difference to their life and hear from some of the experts who train our life saving dogs. 
Select a date below and book today as a group or solo. We ask for a minimum donation of £5 to help us continue and grow our life-saving work. Tea, coffee and the all-important sweet treats will be provided.
Capacity is limited to 35 visitors but please do not worry if dates 'sell out', we will be releasing more dates as the year goes on!
Tuesday 21st November 2023 at 10:00am
Tuesday 23rd January 2024 at 10:00am
Tuesday 27th February 2024 at 10:00am
Tuesday 26th March 2024 at 10:00am
Tuesday 23rd April 2024 at 10:00am