10 years of Dogs Saving Lives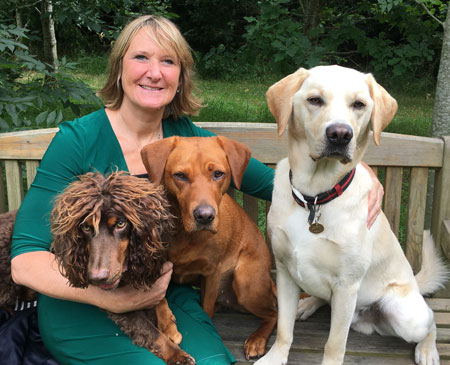 Medical Detection Dogs uses the amazing power of the dog's nose to detect human diseases. Our research is based on the dog's ability to detect minute odour traces created by diseases.
I used to train cancer detection dogs in my dining room, that's where Daisy started her training as a pup. Medical Alert Assistance Dog Programme Manager, Simone used to get samples from the bottom drawer of the freezer for preparation and come through the kitchen with a tray.  Back then neither Simone or I knew where it might lead, but not many people came to dinner.
The charity has come a long way since those days.  Read more below from some of the people involved in Medical Detection Dogs, our history and how it all began in 2008 and ways that you can help us celebrate in this special 10th Anniversary year.
I hope that we can count on your ongoing support for the future.


Dr Claire Guest,
Co-Founder, CEO and Chief Scientific Officer
As HRH The Duchess of Cornwall, our Patron, said in the tenth anniversary brochure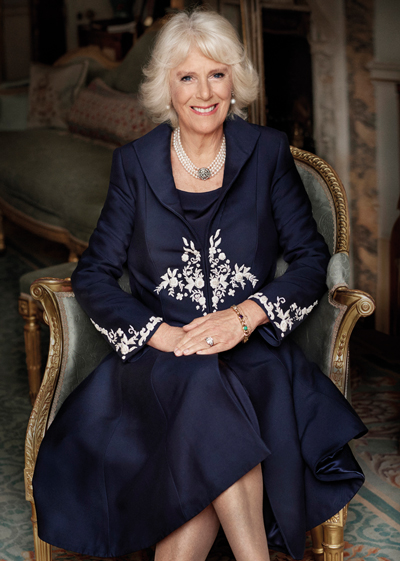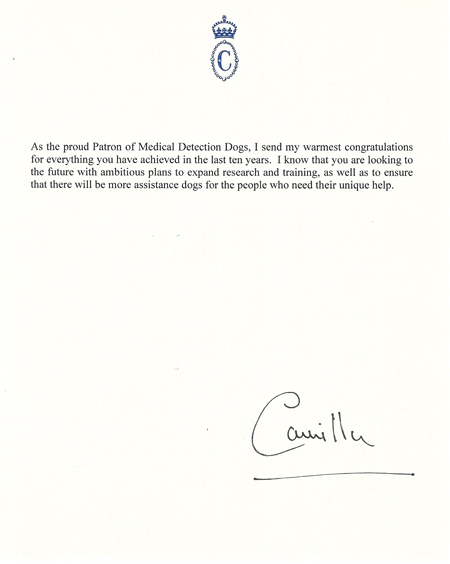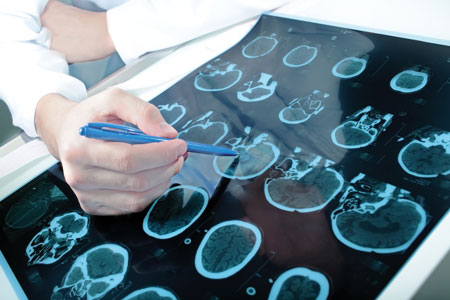 Read about our plans for the future
Parkinson's Disease
Medical Detection Dogs and Manchester University are collaborating on a study that will test skin swabs for Parkinson's disease. Parkinson's, a debilitating progressive neurological condition, affects 1 in 500 people in the UK, and there is currently no definitive diagnostic test. Over the coming years we will continue to investigate the chemical odour associated with Parkinsons. This will have a huge impact on diagnosis and, we believe, assist the development of treatments that slow or even stop this disease.
Malaria
Malaria kills more people worldwide than any other disease. Early stage training indicates that our dogs can detect people infected by the Malaria parasite from skin odour. Future research will continue in collaboration with the London School of Hygiene and Tropical Medicine and Durham University to provide further evidence of this ability and to investigate the full potential of this finding, which could mark a huge change in the way Malaria is detected and controlled.
Urological cancer studies and planning for practical application
The next few years will see the completion of our urological cancer NHS clinical trial and continuation of our collaboration with leading quantum physicists from the Massachusetts Institute of Technology (MIT). With the help of our dogs, the MIT team aspire to develop a pioneering new class of "smart-phone enabled biosensors" which will provide faster, cheaper, non-invasive methods of early diagnosis of cancer that will impact thousands of lives. This collaborative work has the potential to revolutionise the future of cancer detection around the world.
Bacteria Detection
Bacterial infections and antibiotic resistance are a growing problem for the NHS and medical services worldwide. Consensus in the medical profession is that this is a major threat to global health in the future. We believe that we hold the key, and have started our first study into the canine detection of bacteria. We will continue to develop our work and provide clear evidence of canine accuracy to detect specific bacterias and discriminate between bacterias and viruses. This work will have a huge impact on human health in the future.
Medical Alert Assistance Dogs
We aim to increase the number of medical alert assistance dogs we place each year in order to reduce our waiting time, while continuing to research our dogs potential to alert to new life threatening conditions.
New training and research centre
The new buildings will house a dedicated Medical Alert Assistance Dog facility, including scent training and specialist client areas, and enable the charity to complete more bio detection studies by expanding our research facilities.
These are exciting times for Medical Detection Dogs and we look forward to continuing to collaborate with the NHS and our research partners. We will roll out our services more widely throughout the UK and pursue new opportunities to broaden our research into the early detection of other diseases which are currently difficult to diagnose. Our dogs will save many thousands of lives.
Click on the + to hear from some of the people who have helped us along the way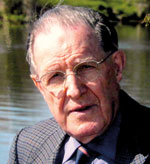 Charity Co-Founder John Church believed dogs could detect Cancer
I am immensely proud of the team that has consistently given their best to ensure that we achieve our objectives successfully. Highlights for me have always been meeting people, particularly those with metabolic and allergic problems, whose lives have been transformed by a dog trained by us.
One of my key contributions to the dog training was being privileged to put together the team for the 'Cancer Detection' proof of principle study which was, not only so successful but presented so well in the British Medical Journal, in 2004. Another highlight was the first International Biodetection Conference held in my alma mater, Emmanuel College Cambridge, in September 2015.
We lead the world in this extraordinary venture, and there are great prospects for the future.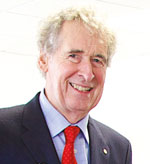 John Guest - President
When you start off a new venture there is inevitably a feeling of uncertainty as to what the future holds. This was particularly so with Medical Detection Dogs because our venture was to be totally ground breaking. But we felt we had common sense on our side and It was obvious to us that not to research whether dogs could reliably sniff cancer to a high degree of accuracy was to leave a massive stone unturned in the search for a better means of diagnosis.
However, we had much to learn. Having a great idea is one thing but turning it into a practical proposition is quite another. Research is a rigorous and long drawn out activity and real practical results take an enormous amount of time to achieve.  Also research is a highly competitive area.  Not everyone welcomes you on the scene particularly if they are themselves struggling.  But most of all you have to learn that although there are charity funds available the competition for those funds is vast.  For years Medical Detection Dogs  was struggling and struggling hard.
You will not be surprised therefore to learn that reaching the 10 year anniversary of what is now, a strong and effective charity, causes me great pleasure and indeed to heave a big sigh of relief! We are regarded as world leaders in the field and world involvement is high.   We have created a virtual whirlwind of activity with very strong media interest. We are making great progress and if we are fortunate in obtaining generous donations can progress even more.
As for my involvement I am one of several who got the charity off the ground and I am delighted that I managed to help get the charity over a few hurdles. The rewards are sweet –  the greatest feeling is the satisfaction of having helped a massively worthy cause.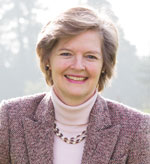 Betsy Duncan Smith – Chairman of the Trustees
It has been such a privilege to be involved with Medical Detection Dogs since I first visited the charity with a friend in 2011. In the early years, Dr Claire Guest's work with dogs was viewed with great scepticism by the medical profession but thanks to the dogs' outstanding abilities to detect disease, and Claire's insistence on scientific rigour, Medical Detection Dogs is now in a very different position. There is huge, worldwide interest in our work and its possible applications and we are acknowledged to be world leaders in this ground-breaking area of medical research.
I am enormously proud to be associated with a charity with such a dedicated team of hard working and professional staff and hugely grateful to the many volunteers who contribute so much of their time and energy to help the charity advance its work. My highlight must be the many occasions when I introduce visitors to the charity and they see a demonstration of the dogs working, or hear a client speak about the difference their dog makes to their life, and then fully understand, indeed are 'blown away' by the huge potential that lies behind Medical Detection Dog's work and the realisation that our dogs that will save countless lives. Claire and the team have achieved a great deal in the last 10 years and I am confident that the next 10 years will bring even more progress in our life saving research.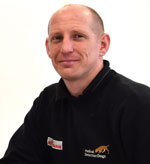 Rob Harris – Dog Trainer who Supported Claire with the Second Cancer Study
I first met Claire Guest in 2001 when I was working in dog assessment at Hearing Dogs. I was totally intrigued and excited by the ground breaking plans she had to scientifically prove that dogs could detect the odour of cancer and I knew I wanted to be part of this research. This became a reality in 2008 when Claire set up this fantastic new charity and I was employed as a trainer of a new team of dogs to carry out the 2nd research paper into bladder cancer detection. The feeling of being part of something really incredible and world changing is still how I feel 10 years later. I have been with the charity from the start and I hope to be with them for many years to come.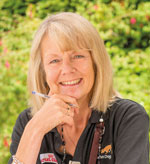 Pam Jones – First Volunteer and currently Puppy Socialising Support
When I first read about the charity in 2008, (at that time named Cancer and Bio Detection dogs), I was fascinated. It combined my loves of dogs and science and I went to help at our first location in Westcott, a very cold building where we were until December 2010. We were a very small team then and all mucked in to help, we even had meetings in my dining room! We had little money, everything was donated and our leaflets were printed on next door's photocopier, Claire even had to limit how long the heating could be put on for. It has been a great privilege to be part of the charity from the beginning and this anniversary is a credit to all the people along the way, too many to mention, that have believed in and contributed to the charity's growth and work.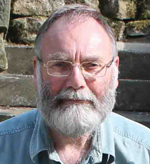 Cherry – First Client to be partnered with a Diabetes Alert Dog
In 2008, Dr Claire Guest worked with my wife and I to train Zeta to become my Diabetes Alert Dog. We were the first partnership for Medical Detection Dogs and Zeta was by my side for over eight years keeping me safe daily. Sadly Zeta passed away in late 2015 and the charity have supported me in training Fizz, a successor Medial Alert Assistance Dog. Having the first Diabetes Alert Dog changed my life and it is wonderful to see that the charity have assisted so many other individuals in need, reaching the impressive milestone of having 100 Assistance Dog Partnerships. It is also amazing to see some of the additional health conditions that the charity are now successfully training dogs to assist with and I hope that in the next 10 years many more people will benefit from these four-legged lifesavers.