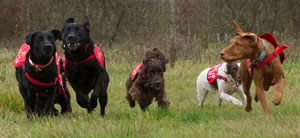 Medical Detection Dogs was founded in 2008 by Dr John Church and Dr Claire Guest who together recognised the huge potential for advancements in human health that were possible by understanding and harnessing the power of the dogs nose. Today Claire leads that work as Chief Executive and Chief Scientific Officer, supported by a dedicated team of professional staff and volunteers.
The charity is also fortunate to have an experienced Board of Trustees who are responsible for the charity's governance and strategy.
We are also very lucky to be supported by a team of high profile Ambassadors who give us the benefit of their time to promote and raise awareness of our life saving work.
You can find out more by clicking on the links below: