Dr Claire Guest BSc. (Hons) MSc. HonDSc. DHP BCAh
Co-Founder, Chief Executive and Director of Operations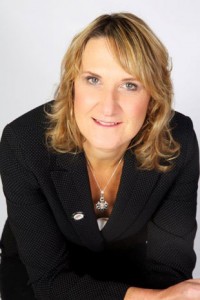 I obtained a Bachelor of Science degree in Psychology in 1986, followed by a MSc in Psychology by research. In 1992 I became a full member of the Association of Pet Behaviour Counsellors, and subsequently became Chair for three years. From 1987 I worked full-time at the charity Hearing Dogs for Deaf People, leaving my final post of Director of Operations and Research in May 2007.
I have been involved in the training of dogs for tasks involving scent for over twenty years; I have trained working gundogs and participated in both competitive working trials and national gundog tests and trials.  Since 2002 I have been professionally involved in training dogs in the detection of human disease through scent. In 2003, I was training director of the first programme in the world to train dogs to identify cancer by odour.  The findings of this study were published in the British Medical Journal in September 2004.
I have worked as a consultant for a number of programmes across the world including Samsung Assistance Dog Services and Hearing Dogs Japan. I have been an invited speaker on this topic for a number of agencies, scientific meetings, police conferences and training seminars around the world.
I am Chief Executive and Director of Operations for the charity Medical Detection Dogs, an organisation that trains dogs to identify human disease by odour. We are currently working on a number of pioneering research projects involving canine olfaction, including the training of dogs to detect cancer, blood sugar changes, and Addison's disease.
In 2011, I was awarded an Honorary Doctor of Science in recognition of an outstanding contribution to development of new approaches for the detection of life threatening diseases.
In 2014 my dog Daisy, who is trained to sniff out cancer, was awarded the Blue Cross Medal for her pioneering work in the field of cancer detection, where she has sniffed over 6,500 samples and detected over 550 cases of cancer.
In 2015, I was awarded the British Citizen Award for life-saving work in the management of long-term illnesses and the research into early cancer detection.
In 2015 I was awarded a fellowship from the Royal Society of Medicine.
In 2016 I was delighted to win the CBI National First Women award for Science and Technology.