COVID-19 detection dogs: learnings and the future
COVID-19 is the first virus to be investigated with dogs and the process of understanding the potential applications as well as the challenges for this work has been an invaluable process. 
As you know, in our first study, which was carried out in our Bio Detection training area, dogs were trained to identify the odour of COVID-19 from a small piece of sock worn by an individual suffering from the virus. Six dogs were taken to trial and proved that they could find an infected individual very reliably with up to 94% accuracy. This part of our study was published in the Journal of Travel Medicine.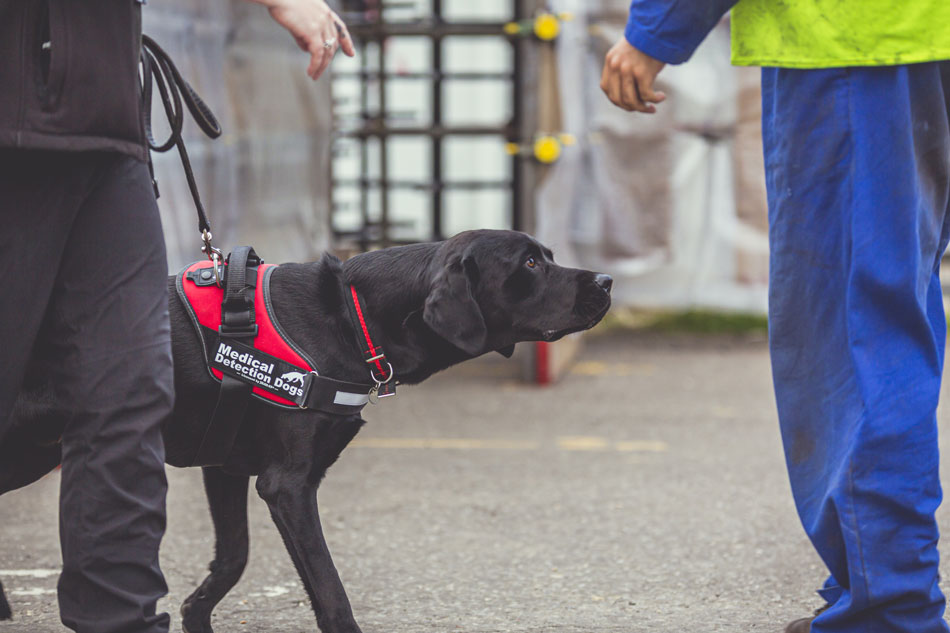 Early in the pandemic when rapid LFTs were being provided by government, Medical Detection Dogs was supported by the government to investigate dogs' ability to become a fast, accurate and non-invasive identifier of those individuals who should then go on to take a diagnostic LFT. It was shown in modelling provided by our collaborators at The London School of Hygiene & Tropical Medicine that using dogs in this way as a pre-screen in scenarios such as when passengers arrive off an aircraft, could greatly reduce the time and cost involved in requiring each individual to take an LFT. We had hoped to take this model forward to public sector people screening (passive search). 
Following the publication of our Phase 1 results we worked hard to achieve the relevant data to validate dogs' impact in this model, but the successful vaccination program rolled out in the UK meant that focus changed from prevention of infection from transmission to prevention of severe illness through vaccination. This greatly reduced the number of LFT and PCR tests being taken by the public and all government guidelines and provision for testing stopped.  
In addition, it became apparent during the course of the pandemic that as the virus mutated and became more transmissible, but generally less life-threatening, that the odour signature (when looking for the human response to the virus) became less detectable. This has been validated by other organisations from around the world carrying out similar research. The more deadly Delta variant being more detectable by dogs that the subsequent Omicron variants.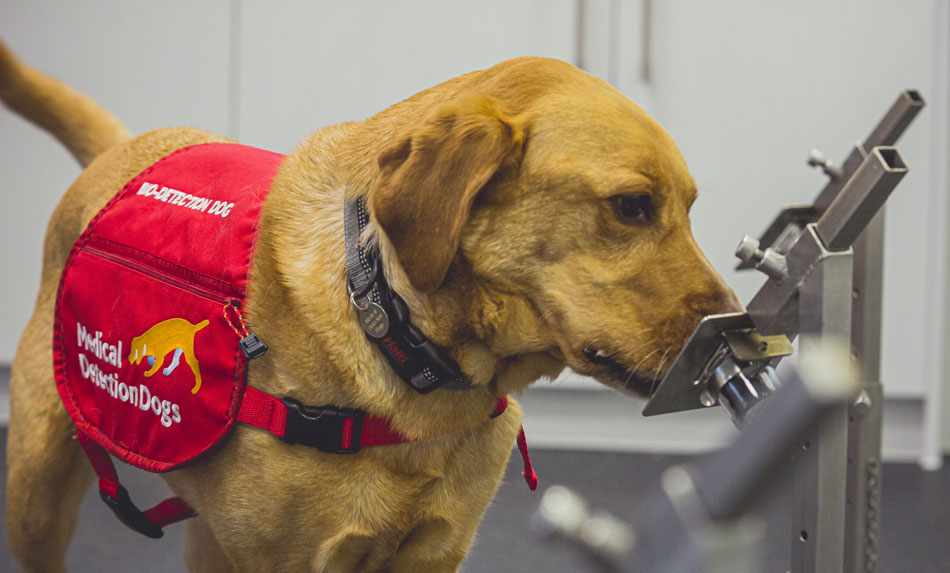 In light of this and the reduced need for an early screening method we are not currently proceeding with our passive 'people search' for COVID-19 detection. However, we continue to investigate virus detection and trial new systems, taking all we have learned from our very successful Phase 1 project and looking at other diseases where a people search detection model could be validated and useful.  There is still a distinct case for a rapid search diagnostic directly on people so in this last stage of our project, participants are being asked to hold a fabric swatch or sock and place their hands through a screen for the dogs to search. The rationale behind this technique is to provide the dogs with a focal point to search (the hand) but use the material to provide a concentrated 'soak' of odour and also complete the odour picture that the dogs have learned from collected samples. We believe for a constantly mutating virus, the people transfer system would be most viable in the future.
In doing this we will be prepared for either future pandemics or the possibility that a further mutation of COVID-19 is either not responsive to the vaccination or is significantly more aggressive/deadly. 
The conclusion of the COVID-19 research to date on this project can be found in a collaborative paper written by us and experts from around the world published in Frontiers in Medicine in December 2022