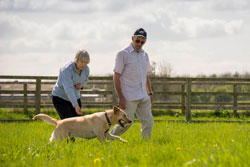 We need caring homes to look after and socialise our puppies and young dogs during their training as Medical Alert Assistance Dogs for anything up to 18 months, or provide long term foster homes for our Bio-detection dogs.
We provide food and equipment for the puppy and cover all veterinary costs whilst the puppy is with you. No experience is necessary as support and advice is provided however, Puppy Socialisers are required to meet the following criteria:
• Attend regular local puppy training classes?
• Be at home most of the day?
• Follow positive dog training methods?
• Regularly get out and about in all environments and situations socialising a puppy?
• Have a secure, dog-friendly garden?
• Have the time and stamina to manage an active puppy or young dog?
Please contact [email protected] or telephone 01296 655888