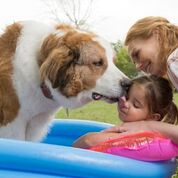 The big screen shines a light on the life-saving work carried out by Medical Detection Dogs
 
The sensational new family film 'A Dog's Journey', distributed by Universal Pictures and released on Friday 3 May, has shone a stunning light on the innovative approach to fighting cancer used by Medical Detection Dogs.
Produced by Gavin Polone of the prequel 'A Dog's Purpose' (2017), which grossed over $205 million worldwide, and based on the book written by W. Bruce Cameron, a rollercoaster plot features a dog called Bailey (voiced by Josh Gad) who develops a special bond with his owners that transforms their lives.
An emotional adventure through multiple lives sees Bailey, CJ (Kathryn Prescott) and CJ's best friend Trent (Henry Lau) experience the highs and lows of joy and heartbreak.
The film, which at one point shows the protagonist surviving cancer due to an early diagnosis resulting from Bailey's alert, takes on particular relevance in light of ground-breaking work over the past few years by Medical Detection Dogs, co-founded by Dr Claire Guest.
Dr Guest's own life was saved by her trusted companion Daisy, after she started behaving differently drawing Dr Guest's attention to an undiagnosed breast cancer. This resulted in Claire fortunately surviving the event, and increasing her commitment to take this work forward and save other lives. 
Daisy's pioneering work now continues in her niece Florin, who is now five and already working on a major project, replicating Daisy's stellar ability to detect cancer. Florin's cousins Belle and Tala are set to join her soon, after they have completed their cancer detection training.
Medical Detection Dogs, entirely supported by donations from the public and benefactors, now trains specialist dogs to detect the odour of many human diseases, including cancer, Parkinson's disease and malaria, and collaborates with other researchers, NHS Trusts and universities internationally to advance the early diagnosis of disease. 
It also provides life-saving medical alert assistance dogs to people with complex health problems such as Type 1 diabetes, PoTS and Addison's disease across the UK.
Dr Claire Guest, Chief Executive and co-founder of Medical Detection Dogs, said:
"I would like to relate my deepest gratitude to the producers of 'A Dog's Journey' for their wonderful depiction of the benefits dogs can provide us at key stages in our lives.
"Some of the scenes were so personal, reminding me of how fortunate I was at a painful time in my life to have had the life-saving companionship of Daisy.
"As my GP told me that had I come any later for the cancer check-up it might have been too late, I remembered Daisy nudging me, with a pleading look in her eyes, and knew that without her I probably wouldn't be here today.
"Medical Detection Dogs has a positive direct impact on the lives of many. Rather than hearsay, or the emotiveness of having a pet, it is peer-reviewed scientific research that has transformed the futures of many suffering from diseases such as cancer, diabetes and PoTS.
"I send all involved with the film my best wishes in communicating such an important message to audiences worldwide."