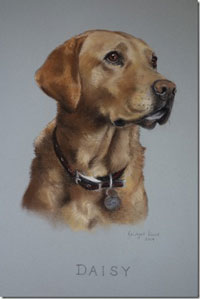 Bridget Wood has drawn this portrait of Cancer Detection Dog, Daisy.
Bridget bred Daisy who is owned and trained by Dr Claire Guest.
Amongst Bridget's commissions have been for the Queen and the Duke of Edinburgh, the Duke and Duchess of Westminster, and the Rt. Hon Iain and Mrs. Duncan Smith.
Having worked in the past on "Survival", Anglia TV's wildlife documentary programmes and been a photographer of weddings, children & newborn babies at the Portland and St. Mary's Lindo Wing, Bridget now has more time to concentrate on her pastel drawing in her small studio in Kent.
Bridget is very kindly giving 20% of her profit to Medical Detection Dogs for any commissions. Email: [email protected]