Dogs are our best friends,

but a Medical Detection Dog is more than that, it's a life-saver

.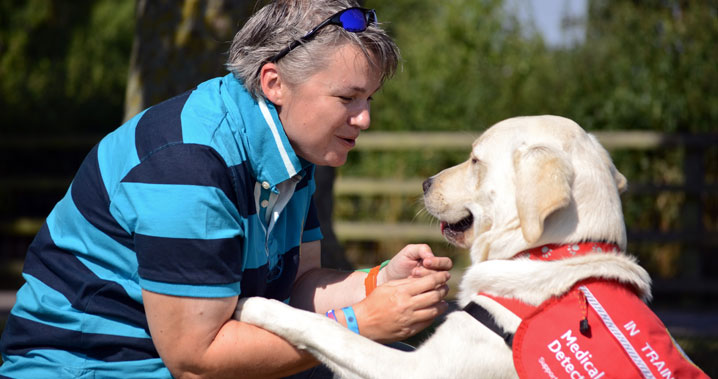 Claire Moon

says…

"Magic really is my best friend and my soul mate, all wrapped up in a clumsy exterior with his puppy-dog eyes and his grandfather-like eyebrows that say so much! Having him without his alerting ability would be tonic enough, but to then have his amazing talent on top is both a bonus and privilege."
A best friend deserves a truly fantastic name. Gifting a name to a puppy is your chance to become part of their life-changing story.
It can take up to 2 years to train a puppy and costs £29,000 to care for, train, place and support a dog and his or her partner to become an accredited assistance dog team. By naming a puppy, you really are helping to change a life!
What you'll receive for naming a puppy:
For a minimum donation of £5,000 we will send you:
• A puppy arrival letter and photo of your puppy
• Regular copies of our Sniff magazine and e-newsletter
• Two 'pupdates' to let you know how the puppy is getting along (these are sent at approximately 6 month intervals)
• A certificate once qualified
• An accreditation profile when the puppy has completed its training

Frequently asked questions
How long will I have to wait to name a puppy?
We cannot say for certain. It can take up to 12 months depending on the number of people we have on the waiting list at the time. You will be sent an arrival letter as soon as the puppy has been named. Please note that you will only be added to the puppy naming waiting list when you have reached your fundraising target.
Can I choose whether the puppy is a Medical Alert Assistance Dog or a Bio Detection Dog?
Our puppies are selected for a role we believe is right for them. We won't usually know until they are well into their training what that role will be, which means it isn't possible to choose.
What happens if the dog doesn't become a Medical Detection Dog?
It costs nearly £13,000 to select, care for, and socialise our puppies prior to the advanced training stage. Sometimes during their training, it becomes apparent that a dog might not be suitable and, in the dog's best interests, s/he will be carefully re-homed as a pet dog.
Does my money go directly to the named puppy?
Medical Detection Dogs will use your donation for essentials such as training, insurance, vets fees and wherever the need is greatest.
I recently gifted you a donation but have just found out about your Name a Puppy Scheme – can my donation now be put towards this?
Unfortunately, we cannot implement the Name a Puppy Scheme in retrospect. The charity needs to be informed of your intention to name a puppy at the point of donation.
How long does the puppy training take?
There is no exact set time for training a Medical Detection Dog, each puppy has an individual training plan suited to their needs.
Will the puppy be placed near me?
Our Medical Alert Assistance Dogs are socialised and matched to the most appropriate client, so they will be placed where they are most needed. Unfortunately this may not be local to you.
Our Bio Detection Dogs all live locally to our training centre.
Can I choose a specific breed or colour of dog?
We are unable to specify the breed or colour of the puppy you will be naming; however, we can guarantee that they will be adorable!