Meet Bounce!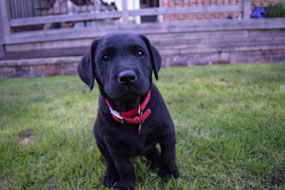 He arrived this afternoon and has settled brilliantly.
He's very chubby and sleeps a lot – he's asleep now so I've left my husband babysitting so that I can write this!
He's been brilliant so far with all of his "busy busy" in the garden, although I've stocked up on kitchen roll and cleaner for the inevitable accidents…!
He's already been to the school with me to collect my daughter so had lots of fuss and cuddles from all the children (and parents!). I must remember to add on an extra 10 minutes to all my journey times while he's this small and cute to allow for all the questions and attention from everyone we pass on our way!!
It's been a busy day for a tiny puppy so I'm hoping that he settles well tonight – I'm sure that Dillon will show him the ropes as they are already becoming great playmates.