It's official – we're record breakers…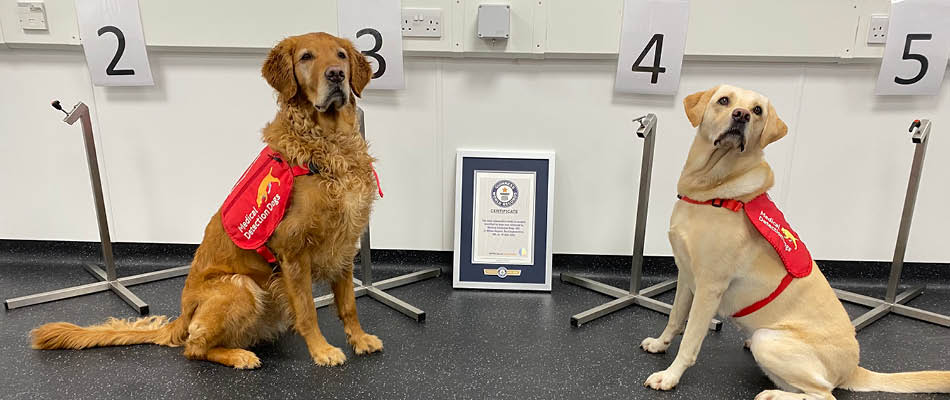 We've always known Medical Detection Dogs are special but it's now official – they are record breakers according to the global authority on all things record-breaking, Guinness World Records. 
In February 2022, we officially broke our first record for most medical conditions detected by dogs (organisation) – with a total of 28 diseases since the charity was founded in 2008.   
The portfolio of medical conditions that we've trained dogs to detect during our history includes severe allergies, postural tachycardia syndrome (PoTS), Type 1 diabetes, malaria and Addison's disease. 
But this result, which earned us a spot in the Guinness World Records 2023 book and is the reason we've had to sit on our paws and not give away this news until now, was only the beginning of our record-seeking journey.   
In November, we attempted to set a second Bio Detection record – most consecutive medical samples identified by dogs.  
During the simulation, the task was for five dogs to pinpoint the presence of different medical conditions, sniffing out their designated diseases from several samples, such as urine, saliva or breath.   
The five diseases were Parkinson's disease, prostate cancer, Pseudomonas infection,  (PoTS) and COVID-19. 
And what a triumph it was… 
The five record-breaking dogs, Bumper, Jodie, Jude, Florin and Lexi along with two trainers, Mark Somerville and Olivia James, teamed up to officially set the record by correctly identifying 24 samples in a row. 
This was an incredible feat (or should we say paws), not least because they were working quite differently to how they normally would but each of the dogs had to pass by four other diseases before indicating that they'd found their own. 
Sophie Aziz, MDD Head of Research, says: "We're really proud of what we achieved, it's a fantastic record. We already know our dogs are superstars and that they can find these diseases – and usually amongst very complicated samples that will smell very similar to the positive samples we lay out for them." 
MDD Co-Founder and Chief Scientific Officer, Claire Guest, says: "Medical Detection Dogs is so proud to have achieved this. Not only does it show the ability of our dogs – that we always knew – but it also shows how reliably they can detect these diseases, even in such an unusual situation. I think the thing the dogs were most pleased about is that they got their biscuits and other rewards!" 
Trainer, Olivia James, said: "I love the dogs and they love their job, so I knew they'd make us proud."  
Adam Millward, Managing Editor of Guinness World Records, said: "Having grown up with dogs who always managed to track down what seemed to be very well secreted snacks, I've long been aware of their superlative sense of smell. But after spending the day at Medical Detection Dogs and seeing their incredible bio-detection dogs in action, I've got a whole new respect for canine olfaction. I was blown away not just by their accuracy and the huge potential this research could have for the future of disease diagnosis, but also by how much fun they were clearly having with their trainers while carrying out this potentially lifesaving work. Huge congratulations to the super-hounds and the  MDD team – I suspect this may not be the last record they sniff out! 
It was tense, exciting and a very proud day and we are thrilled that this record will go down in history. And we can't wait to have a go at breaking the record again in a few years time!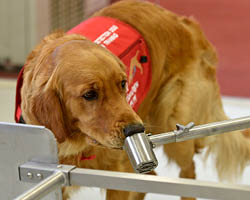 Bumper
Parkinson's detection dog
5 years old
Golden Retriever
Bumper has a passion for running and chasing squirrels.
"He has a very good on-and-off switch when it comes to work," his trainer, Mark, says.
Bumper's other past time is sleeping – and preferably in very random, uncomfortable-looking positions.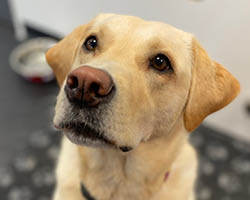 Jodie
Pseudomonas Detection Dog
5 years old
Yellow Labrador
Jodie is always super keen to get into the training room.
She has a very wiggly bottom and could also break records with how waggy her tail is.
She would sell her soul for a tennis ball.
Jude
POTS detection dog
4 years old
Yellow Labrador
Jude is regarded as one of the fastest runners currently at MDD and when he gets the zoomies, everyone stands back.
He has a high work drive drive and really loves his job.
Fast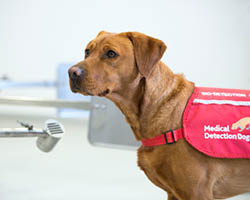 Florin
8 years old
Fox red Labrador
Flo Flo is an independent and laid-back lady.
She can often be found snoozing with her doggy friends in between training and seems to favour the tightest, most awkward spots.
She loves her food and is partial to rolling in fox poo.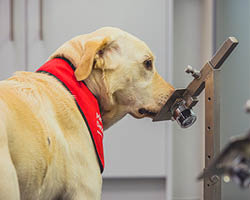 Lexi
6 years old
Labrador
When she'll correctly identifies a sample, she nudges it to confirm that yes, she found it!  
She is the biggest foodie on the team – biscuits are LIFE.
Lexi looks very similar to another team member, Jodie, but thankfully has a little black beauty spot on her side.
Her fosterer owns a garden centre where Lexi is the unofficial manager and mascot.