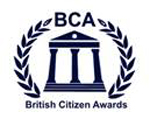 Dr Claire Guest, co-founder and director of Medical Detection Dogs, has been awarded a British Citizen Award for her charity's life-saving work in the management of long-term illnesses and the research into early cancer detection.
Dr Guest commented: "I am immensely grateful for this award and the commendation of our work at Medical Detection Dogs.
"I am very proud of how far we have come in the seven years since we started out. Last year alone we made incredible progress, with the approval of our application to begin a significant trial into the ability of dogs to detect breast cancer.
"In 2015, the trial will begin and by the end of the year we expect to be collecting some very interesting results."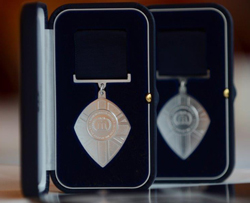 The charity is also in the application stage for a large-scale trail into the detection of prostate cancer. The two trials into prostate and breast cancer, using urine and breath samples respectively, will provide further evidence of the dogs' reliability.
Training trials completed in 2011 showed the dogs achieving 93 per cent reliability in screening prostate cancer samples. This compares to the highly unreliable traditional PSA tests, currently in use, which have a 75 per cent false positive rate.
Highlighting the importance of the cancer work, Dr Claire Guest said:
"Early cancer diagnosis is particularly poor in the UK. Statistics released last week show that 25 per cent of cancer diagnoses are made too late. This situation needs urgently to be addressed to reduce the 160,000 deaths a year caused by cancer.
The earlier we can diagnose cancer, the better chance patients have of defeating it in time. Our aim at Medical Detection Dogs is to expand our operation to the extent that we can provide reliable, non-invasive secondary screening to people throughout the country.
Currently the UK is trailing the rest of Europe in terms of early diagnosis, but we could be a world leader if we have the courage to embrace the enormous potential of this time-old technology."