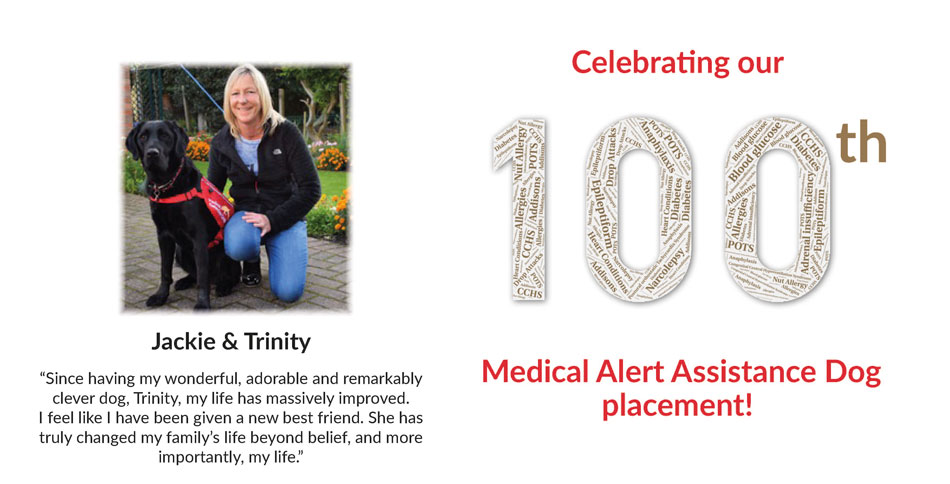 "Before Trinity arrived, I was a prisoner in my own home"
Medical Detection Dogs has placed its 100th dog with an individual with a long-term, life-threatening condition.
Jackie Barwick was 44 years old when she was diagnosed with Type 1 diabetes. At the time she ran a successful hairdressing business, but found over time she was becoming exhausted for longer and longer periods, with her energy levels at rock bottom.
Eventually she went for a check-up with her doctor, who took a blood test and told her she would get the result back in a week's time. Within hours, Jackie was called back and rushed to A&E; the doctor had discovered her blood sugar level was critically low.
It was the beginning of a twelve year struggle with the condition which saw Jackie undergo up to three hypoglycaemic attacks a day without the slightest warning signs, often resulting in weeks spent in hospital.
Her weight plummeted down to six stone and she became afraid to leave the house for fear of suffering an attack without her family to help her.
"I was a prisoner in my own house," Jackie said. "My husband changed his job so he could stay at home with me while he worked.
"He used to have to set his alarm several times each night to check my blood sugar levels were still ok and then do a full day's work. He never had enough sleep.
"When my husband went out, my daughter and sons would have to come over and look after me. It was a strain for the whole family."
On one occasion Jackie was taking her granddaughter for her first day of primary school when she collapsed in the playground with a hypo. "I found it so embarrassing and it was very upsetting for my granddaughter on her first day."
Jackie estimates that out of the twelve years she has had diabetes, she has spent two years in hospital, where nurses faced an uphill battle to bring her round from her comas. On more than one occasion her husband Ricky was called in to say goodbye to her in the middle of the night by doctors afraid she would not make it through until the morning.
"My daughter almost had to cancel her wedding because I was stuck in hospital. In the end the doctors let me out for a few hours so I could be there for her big day.
"Family means everything to me and to miss out on family life while lying in a hospital bed, I found so so sad."
When it seemed no hope remained of improving Jackie's condition, Ricky found out about Medical Detection Dogs, a charity which provides specially trained assistance dogs to individuals with long-term, life-threatening conditions.
It was at the charity's centre near Milton Keynes that Jackie met Trinity. "As soon as I saw her, we fell for each other straight away. We've loved each other ever since."
Once Trinity and Jackie had chosen each other, Medical Detection Dogs began Trinity's two month odour training. Breath samples were taken from Jackie when her blood sugars were low, which staff used to teach Trinity the odour she needed to alert to.
Two months later, Trinity was reunited with Jackie and instantly began alerting Jackie to her hypos. Since then, Trinity has barely left Jackie's side, following her upstairs, into the garden and out to the shops.
"It's just amazing," says Jackie. "I can't put it into words. I was sceptical at first. I thought, 'How can a dog do that?'
"Then I cried the first few times Trinity alerted me to my hypos. I was so overjoyed.
"My dad died from cancer in December. All the wanted was for me to have an alert assistance dog to protect me. Secretly, I think my dad had a hand in Trinity being delivered to me. She certainly feels heaven sent!
"I have six grandchildren. They used to get upset when I was always in and out of hospital. I used to try and protect them by putting on a cheerful front. Now they come round to see me after school and they don't have to worry about me anymore.
"My whole family are much more happy and relaxed now.
"I've got my life back. I love Trinity so much. She loves me too."