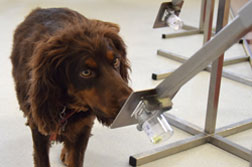 By Jo Lock
Malaria is one of the world's biggest killers, responsible for 584,000 deaths each year.  Rescue Dog Asher is working to help prevent the spread of the disease.
Cocker spaniel Asher came to the charity after living with several owners who could not cope with him. Unfortunately, he had not been given the attention and exercise he needed, and as a result he was hyperactive, restless and would listen to no one. He would destroy things and run away constantly.
Despite attempts from the charity's experienced socialisers, it seemed impossible to change Asher's behaviour. He would not engage, kept running away, and barely slept- he was wild and troubled. It looked like he would need to be returned to the rescue centre.
It looked like no one could engage with Asher, until Claire met him. The moment Claire saw him, she knew there was something special about him: the way he moved and his obsession with sniffing and licking everything. It was clear he had an intense awareness of things and amazing potential to be a Bio Detection Dog with the right training.
Claire drew on her extensive experience of working with and training cocker spaniels to help Asher to settle and trust her, and before long she knew that he would be an amazing Bio Detection Dog. He had found his calling!
When training Asher, Claire had to start from scratch, as if he were a puppy. Initially, she focussed on changing his relationship with people, and building his trust. She started by giving him a fresh start with a more suitable name (he was originally called Jasper). Asher means 'happy and blessed' in Hebrew.
Asher is a totally different dog now. He is progressing amazingly well and won't leave Claire side, except to go with his bio detection trainer.
He has completed his basic training and is undergoing disease training. He has been allocated specifically to the malaria project, and with his help, hopefully the charity can prove that malaria can be smelt.
Find out more about the Malaria project.