Barbara and her saviour, the big, beautiful Frankie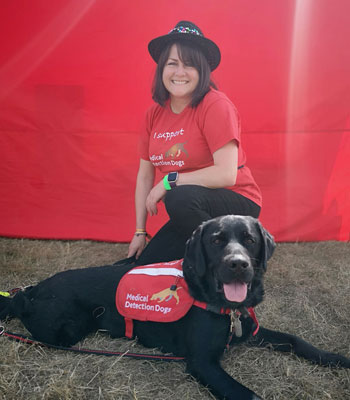 Diabetes has cruelly controlled Barbara's life for as long as she can remember. A devastating genetic trail of suffering and self-injection snakes from her grandmother, through 2 siblings and herself to her own daughter, who tragically died only a day before her 13th birthday from suspected diabetes complications.
'I have memories of my nana injecting herself with a heavy glass and stainless steel syringe, which she used to sterilise in boiling water,' says Barbara. 'She called it sugar diabetes'.
"As a young child, I went onto watch my younger sister being tested for the same disease, after she had slipped into a coma at 2 years old." It was a shock however, when after a random test as a child, Barbara watched the liquid in a test tube turn orange, indicating there was too much sugar in her own urine too. This was to be the start of Barbara's lifelong battle to control Type 1 diabetes.
By the age of 10, her weight was down to 3 stones and her blood glucose levels were almost impossible to control. At 16, Barbara had to be admitted to intensive care due to serious diabetic complications.
Tragedy
Continuing ill health, tiredness, depression, and an inability to gain weight led to a number of miscarriages. However. on May 19, 1994 Barbara had Danielle, a beautiful baby daughter. This date was later to have a very special significance.
Sadly, Barbara saw history repeat itself, when suspecting a problem with her daughter's health, she checked her blood sugar levels. Danielle too had to learn to cope with diabetes, regulating her body first with insulin injections and then an insulin pump. Tragically, Danielle died a day before her thirteenth birthday from suspected diabetic complications.
Barbara having watched Type 1 diabetes devastate her family, hit rock bottom when her daughter died.
'My own health did not matter to me anymore. I was suffering from low and high blood sugar simultaneously. This led to countless seizures and dramatic weight loss as my diabetes was out of control again'.
One day Barbara collapsed outside a pharmacy with Bobby, her 4 year old son. Barbara had lost her hypo awareness. She was frightened and confused, unable to look after her son. Only with the help of concerned staff, who encouraged her to take a glucose drink, was she able to regain control.
Life saver
Then she heard about Medical Detection Dogs and their alert dogs. Despite destructive thoughts that she didn't deserve help as her daughter couldn't be saved, Barbara summoned the strength to make contact. From her first meeting, being able to talk about her condition and her loss, made her feel more positive. And after a period of training she was paired with 'big beautiful life saver' alert Labrador retriever, Frankie.
He came home with her on the anniversary of Danielle's birthday last year, and Barbara believes Danielle sent him to look after her. She describes him as her 'saviour and companion rolled into one.' Since coming to stay he has alerted her over 1000 times. He begins with subtle alerts, staring and wagging his tail, but if Barbara doesn't respond immediately he will jump onto the sofa or put his paws on her chest to make sure she takes her blood sugar reading.
Counselling
Barbara refuses to be defined by diabetes and has recently completed a BSC Hons course in counselling, specialising in loss and bereavement. During her study, she and Frankie went to college together and now that she has qualified, he sits in on counselling sessions, providing help to both Barbara and her clients.
Having an alert dog has meant Barbara's overall health and wellbeing has improved dramatically. She no longer feels afraid to sleep, and with Frankie's help she can now act immediately on blood glucose fluctuations.
Barbara's story is one of real tragedy but also of immense strength and dignity and her constant companion Frankie has played an important part.