'I truly believe he was sent to save us'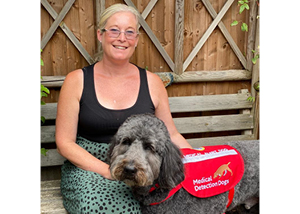 Candy describes her Medical Alert Assistance Dog, Teddy, as a 'giant amongst dogs.' Not just because as half Retriever, half Standard Poodle, he is a tall dog but because he has a huge, loving heart. He's also a nanny to Candy's children, a confidence-giver to the whole family and a lifeline to Candy herself, who amongst other health conditions, suffers from PoTS.
Until May 2017, Candy was a Senior Manager in the NHS. As well as being a busy mum with two children under the age of five, she enjoyed looking after her horses and never sat still for a moment. This all changed dramatically when after a collapse she found herself bed bound. As she couldn't get up without collapsing, she couldn't leave the house. First she had to leave her job and then she had to give up her horses that she had owned since childhood. 
With her husband as sole provider, her close family stepped in to care for the children. Candy was beset by anxiety and depression which exacerbated her existing conditions. 
In 2018 Teddy, a five week old puppy, appeared in their lives. Candy says 'He didn't know he was about to save my life and give me and my family our lives back. 
I just cannot put into words how special this dog is. He has given me the confidence to leave the house without fear of collapsing'. 
Because Teddy alerts Candy to an imminent collapse, she can get herself onto the ground safely. Teddy then stays with her and the children until she comes round. 
This trust in Teddy became even more important when ill health struck the family again in 2019. Candy's 7 year old daughter was diagnosed as a Type 1 diabetic. 
'The anxiety took over again', says Candy. 'I worried about how to keep my daughter safe. What would happen if I collapsed and she needed me? It was a nightmare'. 
Although Teddy is not trained to alert to high sugar levels, Candy did notice that he would not get too close to her daughter when her levels were raised. A keen animal lover and used to handling dogs in her youth, Candy worked and largely trained Teddy herself, rewarding with high value treats when he successfully alerted her to a collapse. She describes Teddy as a stubborn dog who will not allow her to mistake an alert from him. 'He has almost human eyes which he uses to express what he wants. He is a gentle giant and everyone who meets him falls in love with him'. 
Candy approached MDD in 2018, attracted by the ethos and no-kennel policy of the charity, and began formal training at the end of 2020. 
At the start of the partnership, when Candy's heath was very poor, training was hard at times. Then in 2021, after surgery to fully reconstruct her ankle, Teddy had to learn to walk alongside Candy's mobility scooter. 'It took us a while to get there but I'm so proud of us for making it,' says Candy. 
Now back at the helm as Chair of her children's school Parent Teacher Association with Teddy as a fully fledged team mate, Candy says her episodes have become less dangerous. 'Our lives are totally enriched with Teddy in it. He is so laid back and I truly believe was sent to save us'.