"Pal has not only improved my quality of life, my diabetes is much better controlled."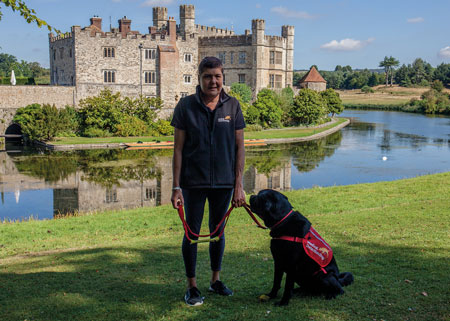 Claire and Medical Alert Assistance Dog Pal on BBC South East
Published on 18 April 2019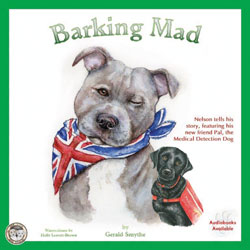 A Kent children's author Gerald Smythe's "Barking Mad" is about a Diabetes alert dog who warns his owner when her blood sugar levels drop. Claire tells us about how Pal helps her, and how it feels to be in the new book.
If I could bottle a little bit of PAL and give some to everyone in the world who had the slightest
physical or emotional problem the world would be a much, much better place!
Pal is loyal caring, charming, hard working, comical but most of all very endearing. He has not only improved the quality of my life my diabetes is much better controlled this, in turn has had a massive impact on my renal failure (for the better) and also my mental health.
I had no confidence. I could not go anywhere or do anything on my own in case I had a hypo. Now with Pal's constant companionship and eagerness to work we are always out and about. He is an absolute star around the shops and public places where everyone like to say hello to him and is a real support and comfort at my regular hospital visits.
Pal came into our family life at just the right time, both of my sons were missing school a lot or finding it hard to concentrate and my husband Steve was having to turn down work to stay with me or be close enough that he could get home quickly. My emergency paramedic call outs were as many as four times a week.
Pal has transformed our family, both my sons are much happier and leading their own lives now, Steve has been able to commit to his job and I have had no paramedics out since having him.
Pal loves to socialise and represent the charity where and whenever possible.
I have been able to go and see,visit and do things I never ever dreamed of doing. Our partnership goes from strength to strength and every day Pal amazes me with his ability to know exactly how I am feeling.
As a family we cannot express out gratitude to everyone who helped make PAL the life saver he really is.
Thank you, thank you, thank you!
Claire