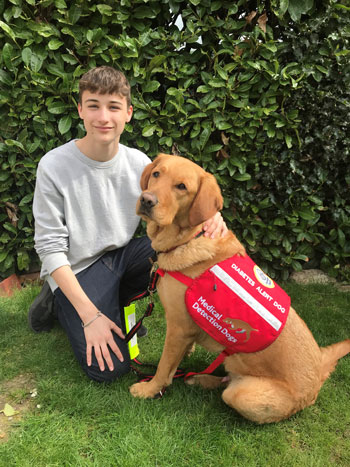 Beau is a big, boisterous dog who loves to charge around the garden and is sometimes too clever for his own good!  But another way of describing the 3 year old fox red lab/retriever cross is as a 'life long partner'. 
16 year old David, who suffers from type 1 diabetes was partnered with alert dog Beau about a year ago. Juliet, David's mother, describes Beau as a different dog when wearing his Medical Detection Dogs coat. ' He is really calm when he is out. He enjoys going into shops and settles really well'.
Juliet says she had thought that alert dogs were always immaculately behaved and perhaps even lacking a little in personality, but admits she could not have been more wrong. 'Beau has endeared himself to the whole family with his comic antics', she says, 'We all love to cuddle and kiss him'.
She first heard about Medical Detection Dogs after meeting another family whose daughter was being helped by an alert dog. Being desperate for help with David's hypo unawareness, causing him to collapse and be rushed to hospital, she immediately applied for a dog. Although they were quickly accepted for a dog, because they already had an elderly pet German Shepherd who would have been overly dominant with a dog in training, they had to wait several years before receiving Beau. With hindsight Juliet sees this as a good thing, as being a little older David was able to do most of the work involved with an MD dog himself and enjoy the freedom of taking Beau out alone.
Juliet, a single parent, describes the worries of life before she could rely on Beau. ' I would particularly worry if David was out by himself or alone at home. He has hypos on a daily basis, sometimes several a day. We had a glucose sensor, but a dog is much faster and Beau has a very strong alert when out on a lead. He stops dead in his tracks and won't move on until David tests himself. Several times he has saved David from collapsing in the street'.
She says that as David gets older and is more independent, having an MD dog with him will be even more important – people will realise he is not drunk if he becomes unsteady, and will come forward to help him.
Thanks to Beau, Juliet says she can now envisage a future where David goes off to university. 'I feel so much happier knowing he will be with David to keep him safe'. The freedom for David and peace of mind for Juliet is paramount. 'Beau feels like support, for me too', adds Juliet ' I feel that I trust him more than the technology'.
'David and Beau's relationship is really strong – they both eat loads, sleep heavily and enjoy being active,' says Juliet, who sums it up perfectly, as a life-long partnership.