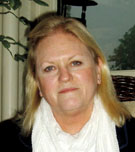 Donna Brander, Baroness of Whittingehame
Donna Brander, BSc(Hons) is a Clinical Animal Behaviourist (CCAB) and past Chair of the Association of Pet Behaviour Counsellors (APBC).
Donna was an Honorary Fellow at the University of Edinburgh Veterinary School (the Dick Vet) for 10 years. In this role Donna lectured on pet behaviour and welfare to veterinary students and to MSc students in Applied Animal Behaviour and Welfare. For many years Donna also ran her own behavioural consultancy, latterly out of the Dick Vet, advising owners who were having behavioural problems with their pets.
Donna is currently a Director of About Tack, a company committed to creating a welfare-friendly saddle for horses.
Donna is married to Michael Brander, the Chairman of Medical Detection Dogs.