How a cup of coffee changed Elspeth's life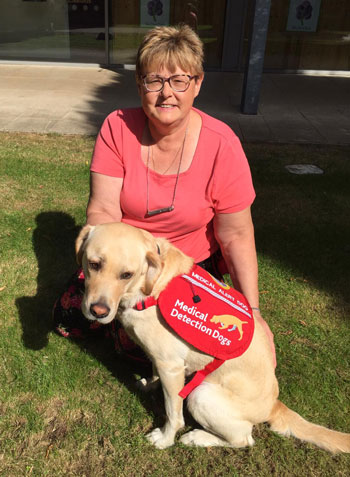 'It was just peculiar. The leaflet was laid out on the table in the coffee shop when we sat down. It was as if it was just meant to be.' This is how Elspeth describes her first introduction to Medical Detection Dogs.
'It was so funny that beforehand my sister had been saying she thought her pet poodle knew when I was about to have a seizure as the dog would sit beside me. We had been wondering if other dogs might be able to do it too.'
Elspeth, who lives with her 20 year old daughter Rebekah, in Aylesbury immediately got in touch with Medical Detection Dogs but unfortunately was discovered to be suffering from breast cancer and had to put all thoughts of a dog on hold until she had recovered.
Suffering from non epileptic attack disorder as well as anxiety and depression, Elspeth found it difficult to go out alone. She has no warning that a seizure is going to happen and hated the thought that strangers might think she was drunk when she collapsed.
'I come from a large family, there are 7 of us, and I have missed every wedding because of my condition. I got to the stage that I couldn't face going out of the house'. But since Moby, her 3 year old lab/golden retriever Medical Detection Dog arrived the change in her life has been in her own words 'immeasurable'.
'I attended one sister's pearl wedding in Morpeth recently and am just about to go on a week's visit to another sister in Lincoln. Moby is an absolute godsend and has changed my life completely. People say I look so happy. I still have the seizures, I still have the anxiety but now I have Moby I can cope'.
Elspeth is alerted in advance of a seizure, which gives her time to sit down and maybe tell passersby what is about to happen to her. If she is on the lead Moby stops walking and refuses to budge until Elspeth sits down. Even after a seizure she will make Elspeth wait until she is sure that she is well enough to walk again.
If she is off lead she makes direct eye contact with Elspeth and stares at her until she makes herself safe by sitting down.
Moby, who Elspeth describes as 'brilliant' has also helped Rebekah her daughter worry less about her mother as she knows that Moby will always alert.
The only advice Elspeth would like to pass on to anyone suffering from a medical condition which might be helped by Medical Detection Dogs is 'Just do it. Medical Detection Dogs and their trainers are amazing.'