"Caz is the perfect dog for me. I can't imagine life without her. She's my best friend and my soul mate."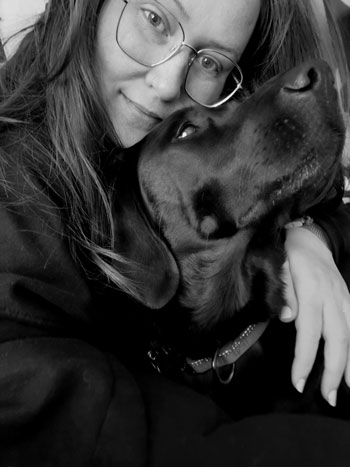 The incredible duo which makes up Frankie and Caz was, at first, an unlikely pairing. Frankie wasn't sure about the dainty black Labrador but persuaded by the MDD team she agreed to a short home stay to see how they got on. Now she is so grateful she did. "Caz is the perfect dog for me. I can't imagine life without her. She's my best friend and my soul mate".. 
Frankie realizes now how important it is to trust the MDD matching process. 'They got it so right and I would have messed it up because I thought we wouldn't be able to mesh together'.  
Life for Frankie, a portrait artist, who lives alone, and suffers from PoTs*, has been extremely difficult. While her peers were travelling or starting families her days were largely spent in bed. Sometimes just rolling over in bed would trigger a faint. Becoming increasingly isolated and depressed Frankie was dependent on paid carers who visited 3 times a week to supervise whilst she showered, or made food. Without supervision she was likely to cut or burn herself and found even small tasks that required standing a struggle. Her anxiety and agoraphobia meant she never left her house alone for 12 years. 
Only after her medical specialist mentioned MDD did she seriously think about applying for a dog and the process which started back in May 2019 became an accredited partnership in February 2022. 
'Life has changed in so many ways with Caz, by my side. A typical "bad PoTs day" with Caz is better than 15 years of my "good days" being disabled and without her. 
We sing it's breakfast time as I take my medication and she makes a sort of baby dragon sound and wiggles her whole body and tail. How can you not smile when your day starts out like that?' 
Caz has meant Frankie can now go out for walks, to the shops and to attend medical appointments, while working hard to prevent her agoraphobia taking control. 'I am excited to do things. It makes everything more bearable having Caz by my side'. 
Frankie has never ended up in A & E since being paired with Caz as her alerts are so reliable. She reminds Frankie about missed medications and too high a heart rate and her empathy shows in cuddles during sad times. 'Taking care of her gives me a purpose and she's fixing parts of me I didn't know were broken. I feel more like my true self than I have done for 15 years'. 
Frankie has shown exceptional courage and motivation in dealing with all life has thrown at her and has nothing but praise for those who have helped her with Caz. She describes the MDD team, as the' most caring bunch of people I have ever met. Their expertise and practical help has been exceptional.' 
And her advice to anyone thinking about applying for help from the charity? 'The process is long and difficult when all your hopes ride on being matched with one dog. You need to be patient and trust them. But it will be so worth it, to take those first steps into a new life with your little hero'. 
*PoTs  -Postural Tachycardia Syndrome.  Simply standing up can be challenging for sufferers as their bodies are unable to adjust to gravity. Symptoms include palpitations, fainting, nausea, headaches and increased heart rate.