I could never thank Medical Detection Dogs enough for giving me my life back.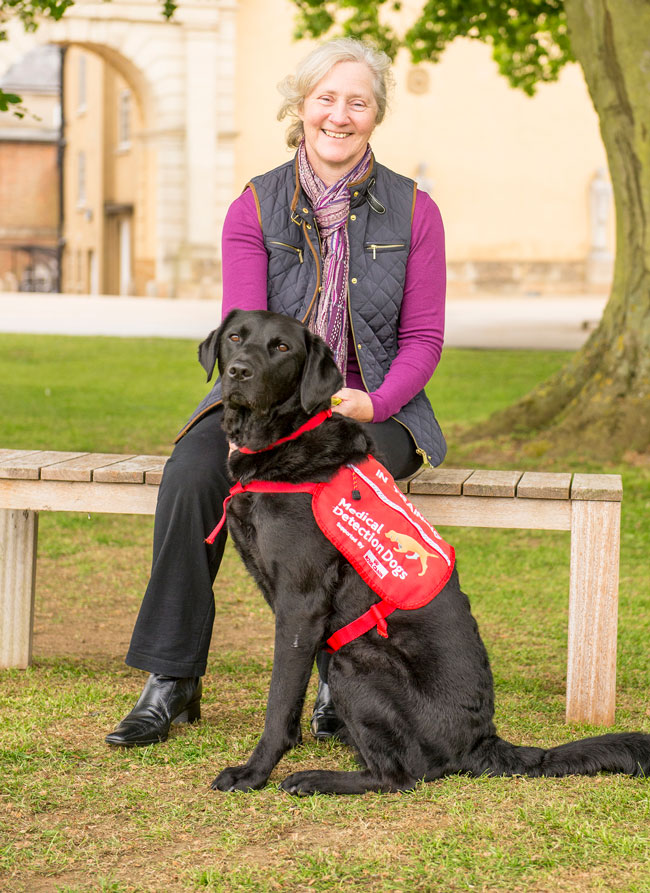 'Love is Lovelier the second time around' — the song has come true for Heather Way and Lifton, her beautiful, black Labrador/curly coat Retriever cross. He was originally partnered with another client whose circumstances changed making Lifton 'redundant'…
For Heather too it's her second chance at a Medical Detection Dogs canine partnership — sadly her first didn't work out.  After meeting Lifton (who was named by his sponsors, the residents of Lifton in Devon), she says, "I didn't want to get too attached again and would joke that it was 'just an engagement, we're not married yet', but now I simply could not live my life without him."
Heather has lived with diabetes for 40 years and lost awareness of oncoming hypo and hyper attacks three to four years ago. "I would have awful episodes at home and have had a lot of accidents in the last 20 years, leaving me practically housebound," she says. "In my thirties I had a bad car accident and broke my back. I used to be hyperactive, skiing and horse riding, but I've never ridden since and had to spend three months in a wheelchair."
Heather was diagnosed in 1977 after becoming ill and almost dying when her weight dropped to four stones. She's lost part of her stomach after suffering a ruptured appendix but these medical woes don't dent her sense of humour or her zest for life.
Living alone, Heather was finding life increasingly difficult: her house is specially adapted for her needs and she can get around indoors without a wheelchair but has suffered accident after accident as blackouts and fits took their toll. Once, after her son had called an ambulance she woke up to find she'd been thrashing about so much both her shoulders had been broken. "These days, my right hand can move up but not out and my left can do out but not up," she laughs. Lifton picks things up and fetches her walking stick for her as well as doing his regular job as a Medical Alert Assistance Dog.
Helen Marsden is one of the instructors who worked with Lifton when he was placed in his original partnership and also helped  're-train' him when he had to learn to alert to Heather's hypo and hyper odour and range which is below 5mmol and above 15mmol — slightly different to his previous partner. It's a wonderful example of recycling a truly amazing four-legged resource.
Heather had reached the point where she wouldn't leave the house. Although she still had her driving licence then, she was too nervous to go into town in case she collapsed and no-one would know why. "It looks like you could be drunk," she explains, "a real nightmare, it was easier to stay indoors and not do anything or go anywhere." Her continuing fits and comas have affected the part of her brain that controls memory too so her short-term memory can make life even more difficult at times.
These days Heather and her mobility scooter with Lifton walking alongside, as he has been trained to do, spend two hours in the Yorkshire countryside most days in the knowledge that he is there to help if anything happens. They even ran a stall to raise money for Medical Detection Dogs at the village fete. "I would not have dared attempt that a year ago. We had great fun together, selling fundraising items and spreading the word about Medical Detection Dogs. Before Lifton I was becoming a complete recluse. I'm even thinking now of going on another long trip. Of course we would have to try a training flight with her regional trainer first to see if he's OK with it, but I would really love to go abroad with Lifton one day.
"I could never thank Medical Detection Dogs enough for allowing me to have Lifton and giving me my life back. I could never repay, in a lifetime, everything they have done for me."