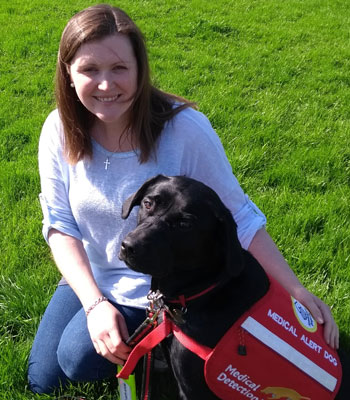 Jenn's life changed dramatically when she almost died giving birth to her son and was diagnosed with life-threatening Sheehan's Syndrome.
Our son, Elijah was born on 30th April 2014, after a traumatic delivery. I lost a lot of blood and my blood pressure dropped very low. Once we were home I became very unwell again and was rushed into A&E in Adrenal Crisis. I was unconscious, had a seizure and woke up in the Department of Critical Care. I am very lucky to still be alive.
There was very little support for me when I left hospital. I assumed a new mum was meant to feel exhausted and unwell, so I trained myself to ignore my symptoms in an attempt to cope. Unfortunately, this meant I kept finding myself going into Adrenal Crisis. It was a worrying and anxious life for us as a family.
I clearly remember when I first heard about Medical Detection Dogs. I was sitting feeding Elijah and was watching Crufts to cheer me up. An Medical Detection Dogs Partnership where the client has Adrenal insufficiency were running for the Friends for Life Award. I sat with tears of joy as I realised a favourite animal could also be my life-saver!
I started to read more about Medical Detection Dogs and was inspired by the work of the charity. The amazing bond between dog and human gave me hope and a positive focus.
I was originally accepted onto the waiting list for an assistance dog provided by Medical Detection Dogs. However, after yet another Adrenal Crisis I was praying about what to do. I really missed having a dog and felt that God was telling me to get a puppy. I had a dream about getting a dog called Joy and everything working out.
I talked with Medical Detection Dogs and they were so supportive of my decision. I used all the advice and information I could to choose the right litter.
I found a breeder where the puppies were in the home and the breeder was following the Puppy Plan. We went to visit them at 4 weeks old. As we stepped near the litter box, a group of energetic puppies immediately rushed up to Jim (my husband) and Elijah. A couple of quieter puppies were snoozing at the back. In the middle sat a calm puppy in a pink collar, looking at me. I knew she was the one.
On 30th December 2016 we brought home 8 week old Joy. Thanks to the support and advice of Medical Detection Dogs we started scent training at 9 weeks old. We believe Joy did her first alert at 11 weeks old. In September 2017 she was accepted by Medical Detection Dogs onto their training programme and was accredited in April 2018.
I have loved training Joy and all the obedience work has been so much fun. It has been challenging at times and having a puppy is certainly not an easy route, but it has been so very worth the effort. I never imagined having such an amazing bond with Joy. She is my best buddy and my constant companion. I trust her completely. She will wake me up at night to alert me if necessary.
At the time of writing, Joy has alerted me 2020 times and has an accuracy of 99%. She has prevented multiple hospital admissions and ambulance call-outs. I now receive my Hydrocortisone medication through a pump rather than tablets, which is closer to how the body would naturally release Cortisol. This has helped stabilise my condition, although I still have no awareness of my symptoms. Joy alerts me early on, when my pump is set too low or too high, meaning I can manage my condition so much better.
Joy totally lives up to her name! Her enthusiasm and zest for life means she's always up for trying something new. If I'm there, she's there and she's fully committed to the experience. Whatever we're doing she will always check in with me every few minutes and give me a quick sniff. This year we've been able to enjoy our first proper family holiday together, without having to worry how close we are to my hospital. We're able to enjoy family life again and look forward to the future. She has changed my life for the better; I have confidence and independence again. I can't thank Medical Detection Dogs enough for all their support and help to make this happen.
Fact file:
Sheehan's Syndrome is when the Pituitary gland is permanently damaged in child-birth. Blood loss and low blood pressure deprive the Pituitary gland of oxygen, causing it to die.
The Pituitary gland is found below the brain and is the control centre for the body's endocrine (hormone) system.
A damaged Pituitary gland does not control the release of Cortisol, a hormone from the Adrenal glands. This is called Adrenal Insufficiency and is life-threatening.
Cortisol is essential for life and is used in every cell of the body. We need a certain amount throughout the day to keep us alive and well. The amount varies depending on our activity and any illness or injury.
People with Adrenal Insufficiency rely on medication to replace Cortisol.
If not treated rapidly, a lack of Cortisol can lead to Adrenal Crisis with risk of seizure, coma, organ failure and death.