Making the most out of life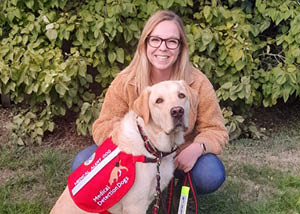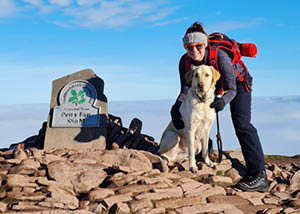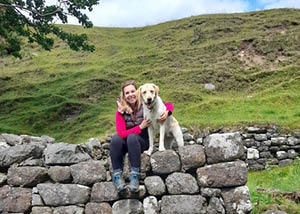 Jess decided to buy a puppy in the hope that he could be trained under the Medical Detection Dogs 'own dog scheme', to help her live a better life while coping with PoTS* and  MCAS**.  These conditions along with other problems meant her health was rapidly deteriorating.
She and her partner Rob, chose a Retriever/ Labrador cross hoping he would have the right attitude for training. They knew they had made the right choice when on the day he came home, he broke off playing, sat on Jess' lap and stared at her. 'Approximately 30 seconds later I fainted', said Jess. 'That was a pretty good indication that he was going to be a good fit'. 
Douglas now 3, has proved to be an excellent alert dog. 'He is a super hero', said Jess, 'he can let me know when I'm about to faint, so I can ensure I get myself into a safe position and also 20-40 minutes before I have a Mast cell reaction'. 
However, Jess admits that having a puppy is hard and jokes about never having another. She says she had to be trained to recognize that Douglas was alerting her. 'I've had to learn how to read him like a book, as his way of telling me I'm not well is so subtle. The average passer-by would not notice anything'. 
Jess believes that this much loved 'goofball' of a dog ,who is particularly fond of the odd salted crisp, has done more to help her manage PoTS than medicine ever could. This has meant fewer hospital trips and Jess now has the confidence to go out alone. 
Before Douglas, life for Jess, a Physicist, could be chaotic. 'My partner and family were constantly on edge, waiting for the next phone call to let them know that I had been taken ill. For a long time I felt I couldn't go anywhere alone. I would cancel plans at the last minute and for a period of 18 months I existed on an extremely restricted diet of around 5 'safe' foods to avoid MCAS flare ups', said Jess. 
Jess, no longer desk bound, has a new, more dynamic job and wishes she had approached MDD earlier than she did. 'I felt Douglas had to be perfectly trained but we could probably have applied much earlier than I realised', 
'Douglas has been life changing. I would urge anyone considering approaching MDD not to wait until their health worsens, but to start the conversation now'. 
Jess describes her partnership with Douglas as being part of an excellent team. 'He knows me as well as I know him and together we are making sure we both get the most out of life. I'd be lost without him' 
*PoTS, Postural Tachycardia Syndrome is a condition where people cannot cope with changes in gravity, Symptoms include palpitations, fainting, headaches etc. 
**MCAS, Mast Cell Activation Syndrome is a condition which causes repeated episodes of symptoms of anaphylaxis, hives, swelling, rapid pulse etc.