It was love at first sight for Jodie, who has PoTs, and her lovely yellow Labrador Nimbus.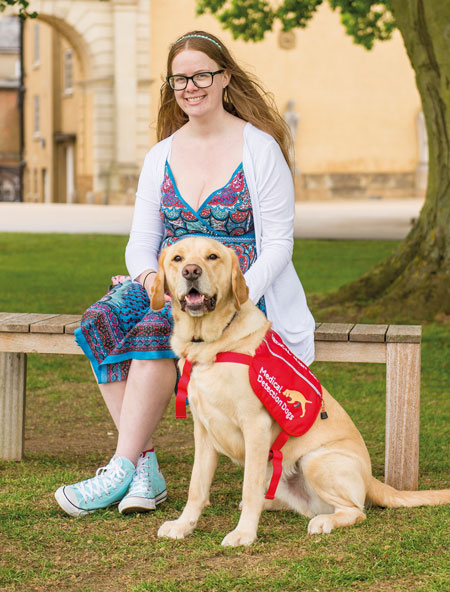 Jodie says:
I was feeling dizzy all the time and frequently collapsing. We found out I had Postural Orthostatic Tachycardia Syndrome.
I would suddenly collapse at home, in the street or in the supermarket. I fainted at the top of the stairs and dislocated both of my hips, it took months to recover and be able to walk again. I had to use a wheelchair outside the house for over a year due to the pain in my hips. The lack of exercise worsened my condition and caused me to faint even more frequently.
We tried medications but they didn't work and had lots of side effects. I had a test to see if I could have a pacemaker to help me but that wouldn't have worked due to my sudden drops in blood pressure. I was told by my doctor that every time I felt dizzy I should lie down, but I always felt dizzy! This started to cause a lot of anxiety as I was terrified of fainting in public. I had fainted in a road at one point and had cars drive around me instead of stopping to help. My anxiety led to my being diagnosed with Asperger's Syndrome. This affects my ability to communicate with people and to socialise, and leads to anxiety when anything unpredictable happens outside of my normal routine. My blackouts were very unpredictable which caused me a lot of stress.  I began to give up hope of being able to control my episodes and I refused to leave the house alone.
I had heard of Medical Detection Dogs while volunteering at another dog charity. I was amazed when I read about the Medical Alert Assistance Dogs and the work they could do. I wondered if it was possible for a dog to alert me before I collapsed. I was very excited when I was accepted onto the waiting list!
My pet dog wasn't suitable as an assistance dog so we waited a couple of years for my perfect match. We first met Nimbus in September 2015. On the day we were introduced to three dogs but I knew straight away my partner would be Nimbus, I don't know why, it just felt so right.  When he came through the door he launched himself at us and jumped around like a puppy, a very large puppy! I thought he was brilliant. I loved his enthusiasm, he was so happy and confident, just what I needed.
He was really silly and puppy-like but had such a gentle side too. He greeted everyone he met like they were his best friend. His excitement and happiness were infectious, he made everyone smile. He also loved training and learning. He was really easy going and would settle quickly when we went out. He really was the dog I had always dreamed of. He was perfect!
In the first few days after his scent training Nimbus alerted in college, in the shops, on a walk. I couldn't believe it was really happening! I trust him to alert anywhere now. Even on free runs, when he is running around, playing with other dogs, Nimbus often checks in and alerts so I have time to lie down safely. When I lie down he waits right beside me, licking my hands and face. I don't injure myself any more. Due to Nimbus's early warning for most of my episodes I can lie down in my own bed before they even start. I have also taught him some other tasks to help like fetching my phone or a drink and picking up things I have dropped. He loves learning things like that and it's very helpful for me on bad days.
Since Nimbus I have found that I am a lot more confident when we go out. I find it difficult talking to people but now they all ask me about my dog. I love talking about Nimbus! I can now go out with my family and enjoy spending time with them without them having to worry about me. I used to cancel so many outings as I would be scared of collapsing suddenly but now I can go with my friends knowing that Nimbus will let me know if there is a problem.  He comes with me to college where I do an art course. He goes to sleep under the table and gets up if he needs to alert. He has even helped to encourage me and given me the confidence to start selling some of my craft items again. I like to paint and needle felt and I am hoping to raise some money for Medical Detection Dogs by selling my dog-related art and craft.