Rocky – the life-saving super sniffer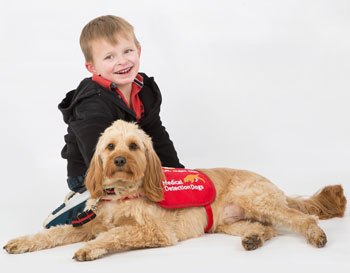 Being a working mother of 3 young boys is hard, but when one of your sons has unexplained hypoglycaemia, you could be faced with a life-threatening situation at any time. Paula, from Northamptonshire, mother of 7-year-old son Joshua, describes how stressful life was.
'I would wake regularly throughout the night to check on Josh. We never knew with any certainty what the day would bring. Josh's blood sugars could drop so low that they would trigger a seizure or cause him to fall unconscious. We lived on hyper alert mode. It was exhausting'.
Josh was discovered to have the condition when he was only 3, and because he has no awareness of his blood sugar levels, his health was very unstable. Internet searching for help to keep Josh safe, Paula found out about Medical Detection Dogs.
'I literally couldn't believe what I was reading', she says. 'I had no option but to contact them, if there was any possibility that they could help'.
With the guidance of Medical Detection Dogs, the family chose Rocky, as a 9-week-old cockapoo puppy to train as an alert dog. Now 2, having qualified at only 18 months old, he has been a life changer.  
Rocky takes care of the nightshift, when Josh is sleeping. He alerts consistently and regularly, more than happy to be rewarded by his favourite dried sausage treat. Paula describes his help as 'a total game changer,'. Josh who is the only known person in the world to have the specific chromosomal abnormality that he has, has other medical conditions which can be triggered by his blood sugar imbalances. Happily these have become more stable too.
Because of his nighttime duties, Rocky doesn't go to school with Josh, where he is looked after by trained staff, but enjoys some relaxing downtime at home. He does however accompany him on hospital visits, which Josh finds both reassuring and comforting.
Boy and dog have a great bond. Josh knows that Rocky is there to look after him and alert when needed, but Paula delights in their friendship. She says Josh is more confident going into different social situations, knowing his best friend is by his side.
And life has changed for the better for the whole family. Josh of course still has hypos, but Paula is so grateful that none are missed when Rocky is around. She and her husband still have to be super organised, able to cope with rapidly changing plans but they get on with enjoying life as much as possible. She describes them as a good team, looking after all their boys, Josh, Charlie 9 and Ollie 3.
'Life is good. We have less emergency hospital visits that's for sure.' she says 'knowing I have our little Rocky super sniffer means I don't always need to be on high alert. The fact that we have Rocky helping so much day to day, means more than a lot of people realise'.