There are no words for what Archie has done for me. He has given me my life back.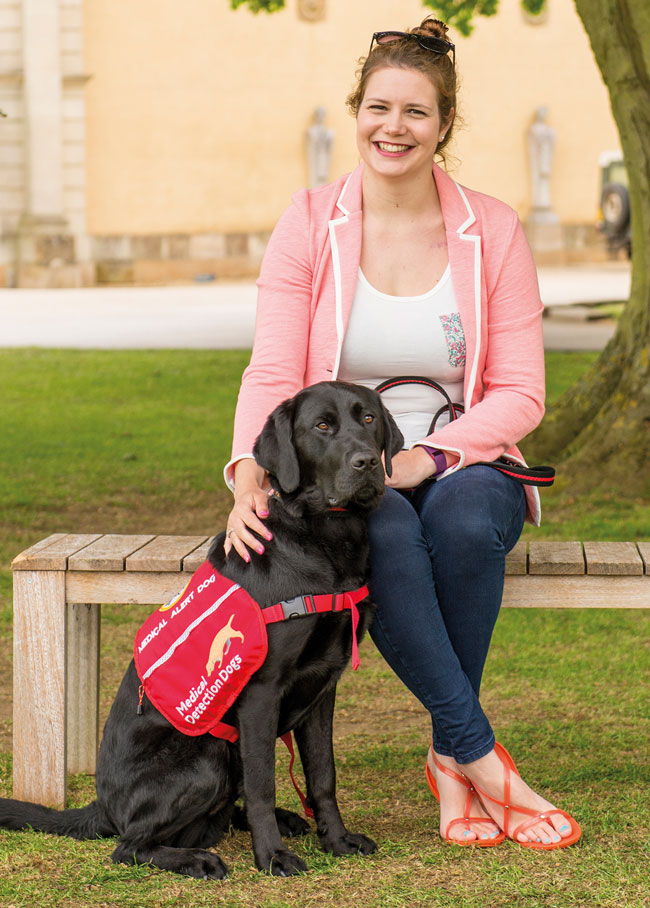 In her 25 years, Katie Purcell has broken every bone in her body, including her spine, at least once and has even fractured her skull.
Swimmer Katie, who competes at a national level, suffers from a catalogue of conditions, including dysautonomia and Addison's disease, that cause her to pass out and fall. She also has hypermobility disorder, making her bones prone to dislocation.
But Archie the Labrador has changed her life – he has warned of a collapse more than 360 times in the months since they were paired in January 2016, and Katie has even qualified for the European Masters Competition at London's Olympic park.
"I don't know how I ever even got through a day without him. I was in A&E constantly; I was in pain all the time.  I was covered in bruises and on really strong pain killers," she said.
Katie said she was "hanging on to life by my fingernails", living in a constant fear of blacking out that had forced her to stop swimming – a huge part of her life since she was four.
She still passes out up to ten times a day, but Archie alerts her in time to make herself safe.
"There are no words for what Archie has done for me. He has given me my life back." Katie said.
Troubled teen
Katie has experienced "one or two" blackouts a year for as long as she can remember and suffered painful dislocations on a regular basis.
"There was a running joke at my swimming group that I had my own accident book because I was getting hurt so much. The two things were running alongside each other but I didn't know anything about either of them," she said.
The fainting spells were explained away as slips and falls, or blamed on tiredness from too much swimming, and life carried on.
"I was doing really well and was swimming a lot. My SAT scores were excellent and I was on track to study medicine at Cambridge," Katie said, adding she got all As and Bs in her GCSEs, but her predicted A grades at AS-level did not materialise.
"When my parents asked the school how I had gone from a straight A student on her way to Cambridge to someone who was failing, they said I had been falling asleep in class."
"All my friends had a job and were out socialising but I couldn't do any of that. I just had no idea why I was so tired all the time," she said.
Katie was struggling, and in an unconscious bid to gain some control over her own body, had also developed a secret eating disorder.
"With hindsight, it's easy to see how it was all connected, but at the time I had no idea why my health was so out of control," she said.
Then at 17, she passed out while singing in her sixth form choir and was admitted to hospital, where she spent three weeks on a cardio ward "collecting diagnoses".
"I was blacking out five or six times a day. Every time I sat up or stood up, I would pass out.
"But I studied in between the episodes – there was nothing else to do," said Katie who took A levels in the hospital, achieving two A grades and a B.
Multiple diagnoses 
"I would get one diagnosis and be given medication for it, and be all right for a while. Then it would get worse and I would be diagnosed with something else.
"You wouldn't believe the number of diagnoses I have now," she joked.
Katie ended up with "around 20" conditions, most of which, like dysautonomia, fall under the umbrella of postural orthostatic tachycardia syndrome (PoTS).
PoTS is defined as an abnormal increase in heart rate after sitting or standing up, but she also has Addison's disease, characterised by progressive anaemia and low blood pressure, and an anaphylactic-level fish allergy.
While her health problems didn't stop her going to Leeds University to study opera, they did bring a temporary end to her swimming career, but she refused to let her health put her out of the game for long.
"I missed it so much. I had swum my whole life. When I was a child I was captain of my club and did it all the way through school, but I had to stop because I couldn't get out of my hospital bed," said Katie, who now lives in Leeds with partner, James Frankland.
It was during her second year at university that she decided she needed to get back in the pool – watching the Olympics had stirred something in her and she knew it was time.
She explained, "I couldn't even watch because I was so jealous I wasn't there! I knew it was time to go back."
Her family were worried, but Katie, who competes long distance, was determined and found the frequent fainting episodes did not occur while she was swimming.
"I have only ever passed out once while in the pool and that was while doing a tumble turn – I got dizzy and ended up banging my head on the bottom," she said.
"Exercise is good for the conditions because of its impact on my heart rate and blood pressure. It's when I am getting out of the pool that I am in the danger zone as they start to return to normal."
Not so swimmingly
Katie, who is now a senior manager in the NHS, had her life back on track, but she didn't have what she craved the most ¬– independence.
She said, "I knew I needed to be in Leeds for my career, which is really important to me. I have worked full-time since I left university.
"I couldn't go back and live at home: I didn't want to be that disabled girl who lived at home. I did not want my illness to own me."
Her parents live a 90-minute drive away and were constantly getting phone calls to say she had injured herself. Her swimming and work colleagues were forever picking her up off the floor. Life was taking its toll on Katie.
"At the start, I would cry every time it happened, but after what felt like the 1,000th time, I was frustrated and angry," she said.
"I was always dislocating something or breaking a bone. I just thought: this is not a life."
Fresh hope
She had applied to, and been rejected by, every assistance dog charity she knew when her mum dragged her to a Medical Detection Dogs open day.
"I had given up hope of anyone helping me and I had accepted that. I was supposed to be going on holiday but my mum and my doctor made me go to the open day.
"I was the only one there who didn't have diabetes. Just as the speaker was talking and saying the charity also works with people who pass out, I blacked out and fell off my chair," Katie recalled.
The team at Medical Detection Dogs could see how desperate Katie's situation was and pledged to do anything they could to help.
"They said they would try, but couldn't promise anything. Each dog is trained to detect one condition, but I have lots.
"I said if they could stop me ending up in A&E just once I would be happy," Katie added.
Archie the super dog
Six months to the day later, Katie and James went to the charity's Milton Keynes HQ to meet Archie and take him for a walk around town.
"I sat down because I felt unwell and Archie became really agitated. Until then he had been the most well-behaved dog I had ever met, but he started misbehaving.
"Then I passed out. When I came round, I burst into tears. I just couldn't believe it."
Archie is now Katie's shadow and is a real hit with staff and patients alike on Katie's elderly medicine ward at work.
To alert, Archie will sit and stare at Katie, while wagging his tail. Katie will then put out her hand and Archie will knock it with his paw "in congratulations", as Katie explains it.
He also goes to training and swim meets where the two of them have their own changing area. This gives Archie the chance to check her before she goes into the pool and, crucially, afterwards, when her blood pressure and heart rate recovery period makes her vulnerable.
"It's amazing to know I can go out and not end up in A&E. He has alerted me more than 360 times in six months and that's more than 360 times I could have ended up in hospital," said Katie.
"It's such a relief to people who I have worked with for years, who can now start to relax, and to my parents who are always waiting for the next phone call to say I am in hospital.
"James has said it's the closest I could get to being cured."