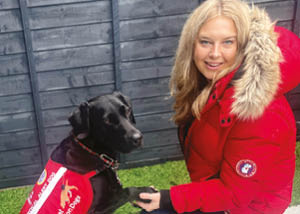 Lucy suffers from PoTs* and ME** but has met her soulmate in Wolfie, a 3 year old black Labrador, who she describes 'as a pure droplet of sunshine in her life'. 
Wolfie was bought as a puppy, especially to train as an alert dog, Lucy felt training him at home with help from Mdd would be the best thing for her. 
'I was struggling with my medication. I did not find it effective and my episodes were re-occurring and frankly quite scary', says Lucy.. 'I spent days in bed, depressed and anxious about leaving the house. Living in London, if I did go anywhere it was by taxi, as I would miss train and bus stops and end up far from home. And if I had an episode of fainting or dizziness in public, sometimes people thought I was drunk which left me feeling embarrassed and vulnerable'. 
Wolfie however has turned life around for Lucy. 'He has started to give me back the life I once had. I have started my own jewellery design business, and with Wolfie I'm able to go into central London. Something I never thought I'd be able to do,' says Lucy. "We use every type of transport, including busy bus and tube journeys, and longer train journeys to the countryside'. 
'I no longer take medication as Wolfie is able to alert me to an episode 7 -30 minutes in advance. He is amazing'. 
But the relationship is made of two parts and Lucy knows Wolfie needs her as much as she needs him. 'I knew it would be a tough challenge to train him and needed the tips, support and modeling offered by the charity,' she says. 'Training is always ongoing and I love him so much that it is a true joy to work with him daily. It's why I want to get up in the morning. 
'If anyone is considering getting a dog with the support of Mdd I would highly recommend it and hope they too, have as much success as I have. I often thought even if he did not pass accreditation, to become a reliable alert dog, the loving bond we formed through training and the daily happiness he brings me, would have made it worthwhile. 
As it is, this highly valued member of Lucy's household did succeed and now never strays far from her, checking on her day and night. 
'He's brought back the old me and introduced a whole lotof energy into the new me. I will be eternally grateful to him and MDD'. 
*PoTs Postural Tachycardia syndrome which causes dizziness, a fast heart rate and fatigue. 
**ME Myalgic Encephalomyelitis a condition which causes extreme tiredness and a range of other symptoms