"I can't believe how lucky I am"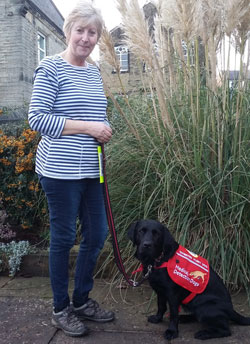 "A life changer, delightful, a dream dog, amazing, the best thing ever", Marie's love for her Medical Alert Assistance Dog, Isla, shines out of every word she uses to describe her. And Isla, a 2-year-old black lab, is indeed special. She has helped Marie find her way back from a dark place after suddenly developing type 1 diabetes in 2014.
"I have always been a fit, active and healthy person", says Marie, "it was a total shock to discover I had the condition". She tried hard to manage her illness, believing "it was not the end of the world", and began an extensive programme of research into type 1 diabetes. "I began keeping food diaries, carb counting, weighing out food, and recording masses of information to understand why I was having hypos everyday and wasn't always aware of it". Although she was feeling ill with diabetes side effects, she was determined not to let it control her.
However despite her best efforts she began to have negative thoughts. She found her work as a classroom assistant difficult, her confidence dropped as she was afraid to go out alone in case of suffering a hypo. She felt unable to enjoy life or do things she had previously taken for granted, because as she had feared diabetes had taken control of her.
Fortunately, a chance mention on tv of an alert dog trained by Medical Detection Dogs caught Marie's attention. She googled the charity online. "Everything on the website was telling me this was the path for me to follow", but she feared it would be beyond her reach. However Marie, a lifelong animal lover, decided she had nothing to lose by making an inquiry and rang the centre, near Milton Keynes. Over a 3-year process she admits there were highs and lows, but she is unstinting in her praise for the staff. "Nothing was too much trouble for the team", she says.  She worried if she even deserved to be placed with a dog and feared she would not make it all the way through the process but visits to the centre made it seem achievable and when she received the phone call to meet Isla for the first time, she describes it "as the best day ever".
"I can't believe how lucky I am to have Isla", she says, "she settled in straight away and is a delightful dog. My life has changed so much for the better".
Unable to take Isla into work Marie changed her work hours and now enjoys more balance in her life. Her first focus each morning is to attend to Isla rather than her diabetes. "I don't worry about it anymore". 
 Isla alerts by stopping whatever she is doing and staring at Marie if she is in danger of a hypo. It has taken persistence, advice and support from the team at Medical Detection Dogs to help Marie recognise that Isla is alerting but she says this is something she is getting better at.  She can now go out alone, her confidence restored and enjoy her life again. She has no hesitation in recommending anyone in her position to get in touch with the charity, as to have an alert dog is "the best feeling ever".
Isla is a bit of a head turner when out wearing her Medical Detection Dogs jacket, drawing admiring glances, and interested questions from passers by. But she is no diva. She loves to help around the home taking out recycling, and fetching slippers. And at the end of the day settles alongside Marie being sure to touch her with her head or paw. 
Marie sums up her love and pride in her relationship with her dog, "Isla has been the best thing ever for me. My partner and son both love her. She is my dream dog and has made living with the difficulties of diabetes worth it. She has given me a better healthier life and I will never be able to thank the team and supporters of Medical Detection Dogs enough".