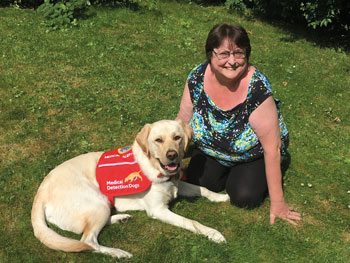 It all started over 11 years ago. I would be walking around the house when all of a sudden, I would drop to the floor. At first my family thought I had tripped, but it got more regular and they realised that I couldn't be tripping up so many times. Initially, I would get up immediately, but then as time went on, I began to black out for a few seconds. Latterly it increased from 5 minutes, to 2 hours, the worst being over 4 hours. 
I consulted my doctor who sent me to see a neurologist who, after a series of tests, gave my condition a name – drop attack.
During this time, the blackouts became more frequent, and I was "unconscious" for longer periods of time. When I am having a blackout, I can't be roused, no matter what people do to me. I have no prior warning that I am going to collapse, so over the years I have been badly hurt on numerous occasions, ranging from fractured wrists to Achilles' tendon injuries. 
Blows to my head regularly left me with sight and visual disturbances. On one occasion, I'm told I didn't recognise my family when I came round, and had complete amnesia which lasted for months before I slowly regained my memory. All I remember is that it was very scary. 
I became more depressed, especially when the medical profession told me they couldn't help me any more. I didn't know which way to turn. My family were distressed and spent their time listening for bangs meaning that I had collapsed again. No one could ever relax. We were all desperate for a solution but there just didn't seem to be one. Everyone was convinced that the next time I banged my head, I wouldn't wake up again or that I would be left with a lasting impediment. 
All this, together with very bad asthma which renders me unable to walk for more than a few steps, made me afraid to go out. I didn't want to go anywhere or do anything. 
My existence had become very mundane, I was so depressed and couldn't sleep at night. 
One day, I was flicking through pages on my iPad, when I came across Medical Detection Dogs. I decided to apply, thinking that, as my condition is very unusual they, like the medical profession, would say they couldn't help me, but to my surprise, they didn't! 
At the initial interview, I was told that as there hadn't been a dog trained for this condition previously, there were no guarantees they could get a dog to alert me, but they would try. They were the words I needed to hear. I perked up immediately. The medical profession had told me they couldn't help me, but Medical Detection Dogs didn't just send me away, they wanted to help me. 
We all know it's not just the interview, it takes months to get a dog once you've been accepted. I couldn't wait to be matched with a dog, but there was always the concern in the back of my mind that it wouldn't be the right dog or that one couldn't be trained to help me, but I needn't have worried. 
I'll never forget the first day I met Rolo. He came bounding across the room and started to lick me. I lay on the floor (pretending I'd had a drop attack) to see what he would do, and he got really upset, licking and pawing me. I knew at that moment he was the right dog for me. The first time he walked with me in my wheelchair, it was as if he had done it forever. When we spent our first night together, in a local hotel, Rolo alerted me that I was going to have an episode, five minutes in advance, and he hadn't even had the scent training! 
I was so nervous that something would go wrong during the 8 weeks when he was being trained with my scent, but I ought to have known he would come through it with flying colours. He is now giving me 30/40 minutes' warning so that I can get to a safe place. Whilst he can't stop the attacks, just knowing I'm not going to get injured is a huge relief not only to me, but the rest of my family. I've not been injured or had to go to the hospital at all since I've had Rolo. Previously, my husband was having to take me to A & E three or four times a month. 
Rolo is a big dog with a personality to match. He makes us laugh every day. Everyone who meets Rolo falls in love with him. If there's a blockage in the aisle in the supermarket, it's normally people asking me about Rolo.
I'm convinced that Rolo has saved my life, and he's definitely changed the atmosphere in the house from fear and trepidation back to laughter, and I can't thank Medical Detection Dogs enough for finding me this wonderful dog.