It is so wonderful to be able to live a ''normal'' life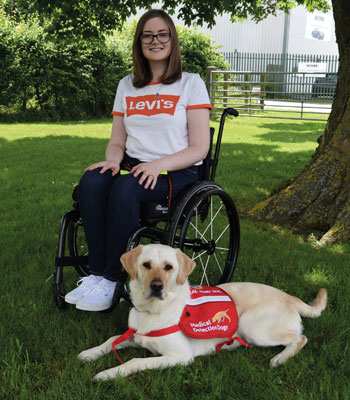 Michelle is partnered with gorgeous lovable Labrador Francis who alerts her before a PoTS episode, giving her the time to make herself safe.
Michelle was diagnosed with PoTS / Ehlers Danlos Syndrome in late 2015, with onset in April that same year. Having seen a piece about the work of Medical Detection Dogs on BBC 1's One Show, Michelle applied for a dog to alert her for her PoT's in January 2016.
The process of getting the right dog, for each condition, for each person and their lifestyle is complex and Michelle was originally partnered with a dog who sadly did not eventually meet the criteria required for an Assistance Dog. Setbacks like this can happen but Medical Detection Dogs then paired Michelle with Francis and the successful partnership has gone from strength to strength.
Five months on and the two are inseparable, with a flourishing working relationship. Michelle says Francis has a calming influence and knows her moods. Even Michelle's dad, a cat-lover, has fallen for the canine's charms and the huge difference having Francis has made to Michelle's life!
Michelle works from home as an Independent Advocate and knows that, with the help of Francis, she finally feels able to fulfil her potential. Having Francis by her side means that no longer is her phone constantly rung by anxious friends and family wondering if she is Ok. They know she is in safe "paws". When Michelle attended a Christmas party that she couldn't take Francis to, she had her first collapse in 6 weeks and this gave her even more confidence in Francis.
Her family and friends now totally entrust Michelle's welfare to the alerting of her four-legged companion who, on detecting a potential loss of consciousness, will lick Michelle's hands or forearms, allowing her the opportunity to lie down until she feels better.
Michelle says that Francis is never far away, even following her to the bathroom! 'It is so wonderful to be able to live a ''normal'' life' Michelle says gleefully.
Michelle says no one should underestimate the impact the charity's work has upon the lives of those it supports and says that she is hugely grateful for the help it has given her. Michelle describes Francis as 'a very funny dog' who she 'wouldn't be without'.
Francis celebrated his second birthday in March 2018 and Michelle is looking forward to spending very many happy years together with her life saving dog.
Postural tachycardia syndrome (PoTS) is an abnormal increase in heart rate that occurs after sitting up or standing. It typically causes dizziness, fainting and other symptoms. It's sometimes known as postural orthostatic tachycardia syndrome. PoTS affects many different people, but is most common in girls and women aged 15 to 50. Some people have mild symptoms, while others like Michelle find the condition totally affects their quality of life.
Ehlers-Danlos syndromes (EDS) is a group of rare inherited conditions that affect connective tissue. Connective tissues provide support in skin, tendons, ligaments, blood vessels, internal organs and bones. EDS can affect people in different ways. For some, the condition is relatively mild, while for others like Michelle their symptoms can be disabling. Some of the rare severe types can be life-threatening.