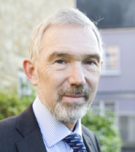 Professor David Billington
Professor David Billington, recently retired Pro Vice-Chancellor at the University of Buckingham, has previously led drug discovery research teams in both the international pharmaceutical industry (Merck Sharp & Dohme and Servier cie) and University environments, focusing on neurosciences and cancer research. David has published widely in the areas of drug discovery and development, and is a named inventor on over a dozen international patents. He was awarded a DSc by Aston University in 2005, based on his career portfolio of research work and publications in drug discovery and development.
Immediately before joining Buckingham David was Executive Director of the Great Western Research project, which funded over 200 PhD students and 20 postdoctoral fellows across the South West of England over a 6-year period, and played a catalytic role in attracting over £25m of research funding into its partner Universities.