Grace – the wonderful walking, wagging comfort blanket of a dog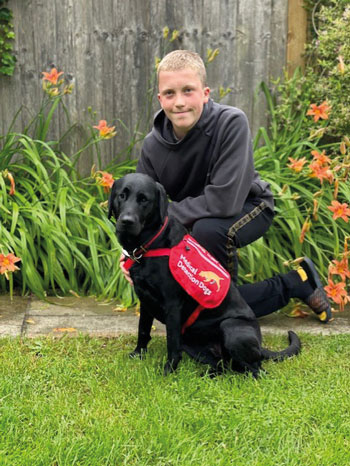 Thomas was only 5 when he was diagnosed as having Type 1 diabetes, and there followed a difficult 12 months for him and his family. He reacted more severely, than other children, to common childhood illness such as chickenpox and because of the instability of his blood sugars he spent many nights in hospital. 
Life for Thomas whose diabetes is wildly changeable, can mean 6 -8 hypos a day. This meant constant and frequent blood tests and left him generally feeling 'rubbish', according to his mother Sarah.
A chance visit by a friend to a talk at a local vet practice in Kent, opened up new possibilities for the family.  After hearing about the experiences of a woman with diabetes who had an assistance dog, Sarah felt Thomas might also be helped by MDD. 
Thomas, who is now 14, has been partnered with Grace for over a year. Grace a 3 year old black Labrador Retriever cross is firmly part of the family. Their only regret is that they didn't apply sooner. 
Sarah, who also has an 8 year old daughter called Hope, puts it very simply,' we sleep better at night'.  Grace has prevented Thomas from missing out on things unnecessarily and because she can help prevent the severity and frequency of highs and lows, by alerting Thomas to the changes in his blood sugars, he is able to have less time in recovery. Sarah says, 'As parents we are more relaxed about diabetes and trust that she will have his back'. 
Grace is a gentle, subtle dog, and at first because she was not forceful, Tom would miss her alerts. But their partnership is now strong and Tom knows that Grace can be trusted to alert successfully.  Sarah adds, 'Tom can have a triple hypo, which can take an hour to come out of. His friends cannot really understand how to help him, so to have Grace to stop the massive ones before they start, is a great relief'. 
Their partnership, in which Tom does most of the caring and feeding of Grace, is described as reassuring, natural and fun. In fact during covid lockdowns when Tom was unable to go to school Grace was very happy to have Tom around all the time and understandably struggled a little when it was time for Tom to go back to school without her. 
Tom, is an active teenager, who does not let diabetes get in the way of his life. Where possible Grace goes wherever he goes and has become a valuable part of the family structure. As Sarah memorably puts it 'his comfort blanket'.