"Life is so much better with Stowe by my side"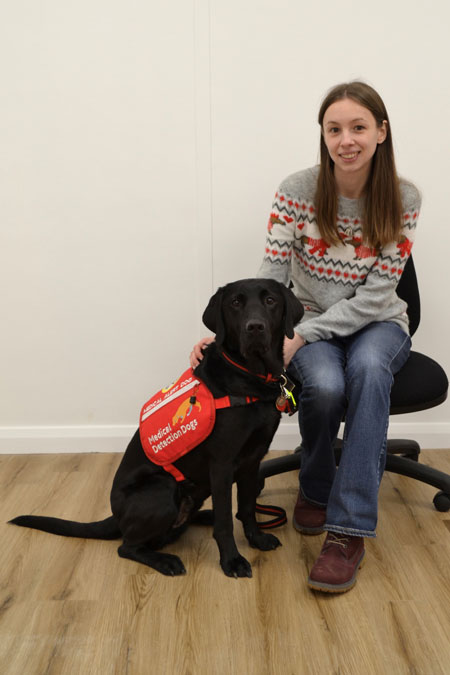 Zoe started to become unwell in 2007, having returned from a 3-month volunteer programme working at a Wildlife rehabilitation centre in South Africa. After several months of extreme fatigue and spells of being bedridden she was diagnosed with ME and Hashimotos Thyroiditis, an autoimmune condition, which now means she needs to take lifelong thyroid medication for an underactive thyroid. Zoe continued to have health problems with the ME severely impacting her everyday life. Although she had always had joint problems she began to suffer an increasing number of injuries including finger and hip dislocations, ankle sprains and jaw problems. After a long period of time seeing different specialists she was eventually diagnosed with Ehlers Danlos Joint Hypermobility Syndrome. The tiredness and fatigue continued to be a problem for Zoe and she had to reduce her work to part time hours and finally, after a relapse she was signed off work and then made redundant. Zoe became very isolated during her relapses and spent a lot of time indoors, unable to face going out. 
Zoe began having episodes of dizziness, blacking out and some severe faints where she was taken to hospital. These episodes often resulted in injuries. This meant Zoe was afraid to go out alone and relied on parents or a close friend to accompany her if she had to go out. 
Eventually at the beginning of 2016 Zoe was diagnosed with Postural Orthostatic Tachycardia Syndrome (PoTS). 
Zoe had heard of Medical Detection Dogs, but it was when she met up with MDD at The National Pet Show that they convinced her that she should apply. The more she read and spoke to people she began to think that an assistance dog may be a help to her and a way of gaining her lost independence and confidence in going out and about.
Zoe first met Stowe in February 2018. It was love at first sight when he came over to say hello. During the day Zoe was out in a supermarket with Stowe and an Instructor when she collapsed. Stowe stayed with her, licking her and making sure she was ok. This early experience with Stowe made Zoe realise what it would mean to be partnered with a Medical Detection Dog. Normally, a collapse out in public is very stressful as she is aware of people staring and she worries about what people are thinking. It was an overwhelming experience as she knew this could be a great change to her life and would give her back some control. During the episode in the supermarket with Stowe being there Zoe wasn't worrying about if people were staring as she kept her focus on Stowe and knew he would look after her.
Having alerted Zoe to her episodes from the start of his early scent training, Stowe has now become her shadow. He is able to warn Zoe that she is about to collapse and gives her enough time to sit or lay down. This means her episodes are less severe and she can take measures that have stopped the injuries and visits to hospital. Stowe has been so tuned in to Zoe that he hasn't missed an alert since day one of placement. Even on a free run he will alert Zoe and make sure she is safe. The presence of other dogs does not distract him from his work and although he loves to play, Zoe is his priority and he can quickly switch into work mode. He will not allow Zoe to get up and continue on unless he feels it is safe. If Zoe does not notice Stowe staring at her to warn her, he will escalate his alert to a whine or jump so even if she is starting to space out she will not miss what he is telling her.
Even when Zoe had only had Stowe a short time she gained confidence to take action in public without fear and embarrassment. She no longer feels self-conscious about lying down on a train or in a shop if that is what she needs to do. Stowe has stopped her falling and injuring herself when she had no warnings of an episode. 
Before Stowe arrived, Zoe may go days or weeks without leaving the house but now she will go out on walks each day to make sure Stowe has time to run around and play, feeling in safe hands with Stowe, she knows he will look after her and be there for her. Stowe has become her soul mate and she is so grateful, along with her family, to the work that Medical Detection Dogs have done to enable this partnership to be possible. 
Stowe has such a great personality and you can't help but feel happy in his presence. He loves his cuddles, playing with his favourite toys, meeting dogs to play with on his walks and exploring. Zoe never expected how big an impact Stowe would have on her life in such a short period of time and feels that she would be lost without her partner and shadow who follows her everywhere. 
Zoe says 'I really can't thank everyone enough who played a part in getting Stowe and I to where we are now, life is so much better with Stowe by my side'.