This is Chip, who is about to start his journey to become a life-saving dog!
By sponsoring a Medical Detection Dogs puppy, you'll be making a huge difference by helping to support their care and training.
Sponsor a gorgeous puppy from just £1.25 a week and watch them grow from a bundle of fur to a fully-qualified medical alert assistance dog.
It can take up to 18 months to train a puppy and costs £29,000 to care, train, place and support a dog and his 'owner' for life.
During their training they live with volunteer socialisers and their families. For as little as £5.00 a month you can help us create lots more life-saving medical alert assistance dog partnerships.
After approximately 18 months of training, your puppy will give freedom and independence to one of our clients, giving you the chance to sponsor another new recruit!
Sponsor Chip today and share his amazing adventures as he trains to become a life-saving Medical Detection Dog.
When you sponsor a puppy you'll receive:
A welcome pack, including an adorable fridge magnet, window sticker and regular pupdates from your puppy.

A welcome pack, including an adorable fridge magnet, window sticker and regular pupdates from your puppy.
You will also receive a cute, cuddly soft toy*

*Toy may vary from that shown
Sponsor by post
If you would prefer to sponsor our puppies by post please download, print and return our Sponsor a Puppy Form 
If you would like a form posted to you, please call our fundraising team on 01296 655888
People are always asking us interesting questions about our Sponsor a Puppy scheme. That's why we've chosen to answer as many of them as possible on the FAQ page. 
For further information please contact fundraising@medicaldetectiondogs.org.uk
The difference a sponsor puppy can make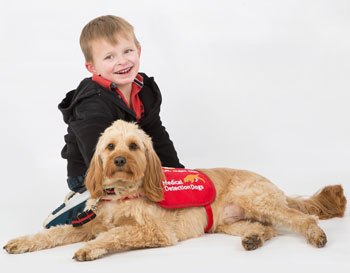 Josh was discovered to have unexplained hypoglycaemia when he was only 3, and because he has no awareness of his blood sugar levels, his health was very unstable. Internet searching for help to keep Josh safe, Paula found out about Medical Detection Dogs.
'I literally couldn't believe what I was reading', she says. 'I had no option but to contact them, if there was any possibility that they could help'.
With the guidance of Medical Detection Dogs, the family chose Rocky, as a 9-week-old cockapoo puppy to train as an alert dog. Now 2, having qualified at only 18 months old, he has been a life changer.
'Life is good. We have less emergency hospital visits that's for sure.' she says 'knowing I have our little Rocky super sniffer means I don't always need to be on high alert. The fact that we have Rocky helping so much day to day, means more than a lot of people realise'.