This is Logan, who is about to start his journey to become a life-saving dog!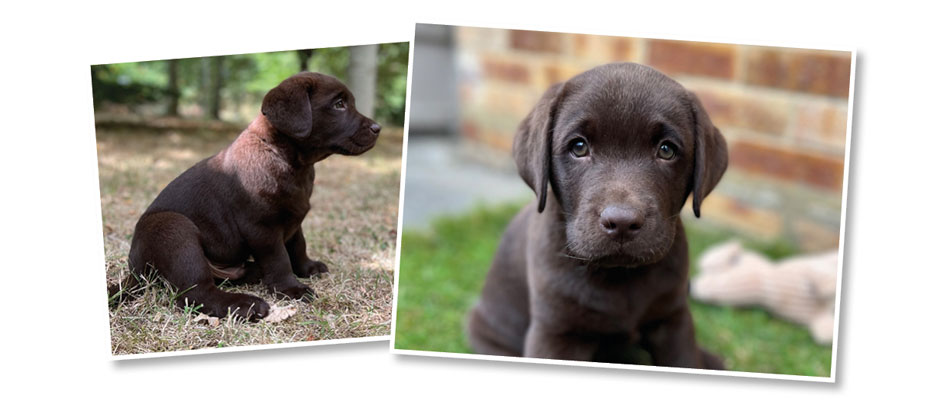 Sponsor Logan today and share his amazing adventures as he trains to become a life-saving Medical Detection Dog
By sponsoring a Medical Detection Dogs puppy, you'll be making a huge difference by helping to support their care and training. Sponsor a gorgeous puppy from just £5 a month and watch them grow from a bundle of fur to a fully qualified Medical Detection Dog.
It can take up to 2 years to train a puppy and costs £29,000 to care for, train, place and support a dog and his or her partner to become an accredited assistance dog team.
During their training they live with volunteer socialisers and their families. For as little as £5 a month you can help us create lots more life-saving Medical Alert Assistance Dog partnerships.
After completing their advanced training, your puppy will give freedom and independence to one of our clients – what an amazing gift.
When you sponsor a puppy you'll receive:

*Pack varies based on your gift amount.
Regular updates about your puppy's training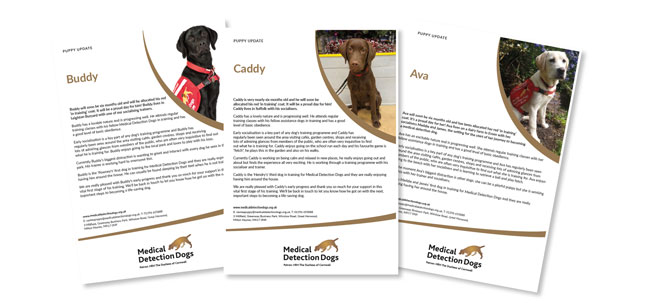 The difference a sponsor puppy can make
Henry was once a sponsor puppy…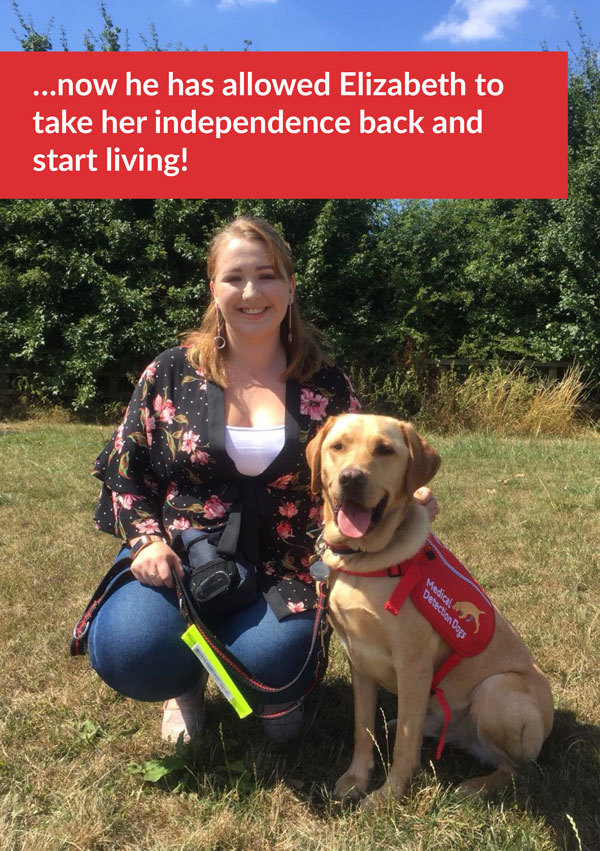 Elizabeth says…
"Thank you for being my best friend, my hero, my reason for getting up in the morning. Thank you for being my ray of sunshine on cloudy days and for licking up all the tears when it rains. Thank you for keeping me safe and for always putting a smile on my face."
Puppy sponsorship makes a great gift

Frequently Asked Questions
How long does puppy sponsorship last?
It can take from 18 – 24 months for a puppy to complete its training and qualify as a fully trained assistance dog.
S
ometimes it
can t
ake a little less or even a bit longer, depend
ing
on the individual dog.
You will follow your puppy's journey from their socialisers home, to their early puppy training and
then on to their more
advanced training with a final
'
pupdate
'
once they have completed their training.
Your sponsorship will continue beyond the placement of the puppy. Your ongoing support will help us fund this, and other areas of our life-saving work
Am I the only person sponsoring the puppy?
It costs £29,000 to train a Medical Alert Assistance Dog. This covers the first two years – from birth to accreditation. After that, it costs £1,000 per year to support the working partnership. We wouldn't expect you to fund the total cost by yourself so by sponsoring a puppy each month it gives you and other people the opportunity to fund a puppy's training as well as further areas of our vital work. It's a bit like the puppy having an extended family.
Will my money go to the puppy I sponsored?
Your donations will
help support their care and training and
will
also
be used by Medical Detection Dogs wherever the need is greatest.
Your donation will make a big difference and is very gratefully received. We are entirely reliant on donations from the public to continue our life-changing work.
Can I meet my sponsored puppy?
Unfortunately, it is not possible to meet your puppy.  It is very important the puppy's concentrate fully on their training with minimal distractions. However, you'll receive regular pupdates which will give you a fantastic insight into how your puppy is growing and all the different things they are getting up to.
Do all puppies complete their training?
It takes a very special dog to learn all the skills required to be an assistance dog, and we hope your puppy will make it through training. Naturally, some dogs don't meet our high standards and we withdraw them from training. We take these decisions very seriously as we must keep the welfare and safety of our clients and the
dogs
we train at the heart of everything we do.
If
your puppy is
un
able to complete its training, it will be rehomed with a loving family and we will write to you to let you know.
Can I name a Medical Detection Dog Puppy?
Yes. If you make a donation or raise (with your friends and family) £4,000 or more, you can give one of our Medical Detection Dog puppies a name. Please call 01296 655888 for further information or visit our 
Name a Puppy
 pages.