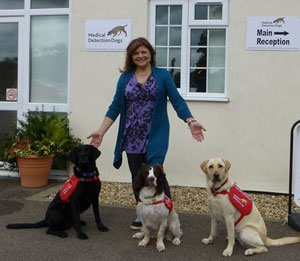 Medical Detection Dogs are delighted to announce that QVC presenter and author Debbie Flint has agreed to be an Ambassador – she joins our other ambassadors – Lesley Nicol, Gill Wright and Kate Humble.
"I am humbled to be part of such a phenomenal team. In May several of the QVC presenters took part in the famous London Moonwalk (a marathon through the night in your bra!) and we were lucky enough to meet Christina Bowden and when she found out I was a dog person (3 labradors) invited me up to the HQ. One trip to Milton Keynes later and I knew I had to donate all proceeds from my upcoming house-move down-size nearly-new sale. When I found out how much owners' lives changed, like Type 1 diabetic Carolyn who would go into a coma if her dog Samson didn't alert her of high or low blood sugar, it awed me.
When I saw the sniffer dogs in action, playing a 'game' that leads to detecting prostate cancer in hospital urine samples, faster than a machine, equivalent to one drop of blood in two olympic sized swimming pools, I was fascinated by the science.
I am so impressed with the team that I told them that over the next twelve months I'd like to up my £5000 raised so far, to the £11,000 needed to train one puppy. And they're going to allow me to name the next one after my late dad. Looking forward to introducing the world to the Detector Dog named Derek… Seriously I am delighted to be part of the team and am working on the next event – a nationwide virtual pub quiz! More info on www.debbieflint.com – follow me @debbieflint for updates! "