Finding Bounce's character.
Ok so I'm not saying that he's naughty as such, because he isn't at all – let's just say that he's becoming more challenging as he's getting more confident!
Don't get me wrong, it's all good and as it should be, I think I'd be more worried if he continued to be a perfect puppy!
So, despite the change of bowl, Bounce still seems able to tip his water everywhere, and quite likes to scrabble in the bowl just to make sure that it's all out!!
And talk about being a couch potato! Every opportunity he gets, he's up on the sofa trying to make himself at home!
I am pretty strict on this, but I have to admit that the way he pulls the cushions up under himself to cuddle them is very sweet!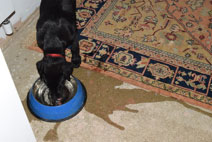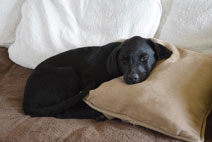 Poor Dillon takes the hit most of the time though as Bounce likes to steal his toys and pull his ears. Luckily, Dillon is very mellow, and apart from the odd look at me as if to say 'what have you done??!' he enjoys having a new play mate.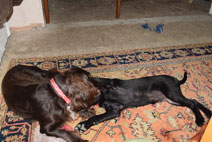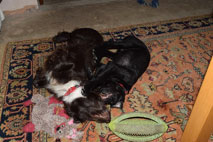 Having said all of this, Bounce is soooooo good considering he is still only 12 weeks old, and I get comments all the time about what a lovely and well behaved dog he is.
He even passed the 'in-law' test this weekend when he settled perfectly through his first pub lunch! And he walked to heel beautifully in their garden even though I hadn't asked him to…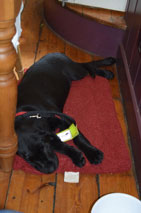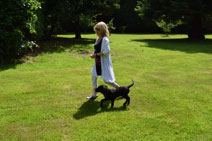 He was lovely with fellow Medical Detection Dog puppy Sydney when she came for a visit this week.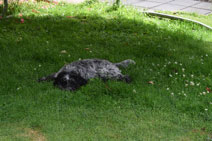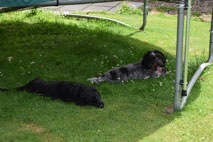 …and his 'wait' command is brilliant!
… We're still working on getting him to sleep in a bed without bits of him hanging out though!