Sponsor Todd today and help him save a life
Sponsor Todd from just £5 a month and you will receive a fantastic welcome pack and regular pupdates following his training.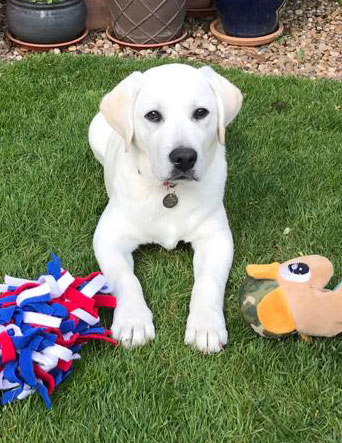 Hi, I'm Todd. I'm an inquisitive and confident puppy and with your help, I can become a life-saving Medical Detection Dog.
Breed: Labrador
Gender: Male
Colour: Yellow
Likes: Food, (he's a Labrador after all), curling up and sleeping at people's feet, sniffing new things.
Dislikes: Currently being unable to explore the world 24 hours a day.
Todd is the first Medical Detection Dog that Madge and her husband are socialising for us. They have previously helped to socialise dogs for another assistance dog organisation and really enjoy having a puppy around the house. Madge says "Todd is the easiest dog we have trained to walk on the lead and he has lovely handler awareness. Todd is very obedient and happy to please – he quickly learned to sit and wait patiently while I unload the dishwasher!"
Trainer Becky adds "He's a very clever boy and is full of character. He's picked up his basic training very quickly but is still a young puppy at heart and loves playing with his socialisers, toys and getting up to normal puppy mischief"
We're delighted with Todd's early progress and it is clear that he is with wonderful people. We are sure that he'll go on to achieve great things.
What do you get when you sponsor a puppy?
A welcome pack, including a fridge magnet, window sticker and regular pupdates from your puppy.

A welcome pack, including a fridge magnet, window sticker and regular pupdates from your puppy.
You will also receive a cute, cuddly soft toy*

*Toy may vary from that shown
The difference a sponsor puppy can make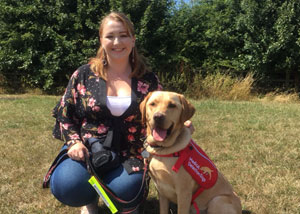 Elizabeth's journey with PoTS has been a rocky one to say the least. She only appeared to have black out episodes whilst doing judo and used to get some kind of warning beforehand. As time passed she began to feel more unwell in day to day life; was always extremely tired and dizzy, ached constantly, and had frequent heart palpitations and chest pain. Her black outs also started happening more and more frequently without warning, and whilst doing daily activities, such as school, shopping or watching TV. Elizabeth also had a fair few bad injures and concussions from dropping suddenly. Henry and Elizabeth were partnered up and ready to give it a whirl in the real world. Elizabeth was blown away how much more relaxed, calm and safe her episodes were. Henry would alert, she'd sit down, and everything would run its course smoothly; no injuries or drama. With time his alerting became really strong and he hardly missed any episodes! Henry has allowed Elizabeth to take her independence back and start living! He's her wet nosed knight in shining armour and she couldn't be more grateful to him.