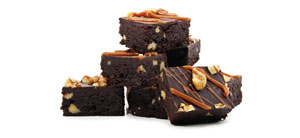 Rise to the challenge by holding a Bake Off and help raise lots of dough for Medical Detection Dogs.
Whether you're whipping up a batch of brownies or you're feeding the five thousand in the name of fundraising, every cake you cook and every scone you sell will help us to train more dogs to save and change lives.
Why hold a Bake Off?
Perfect for the office, a coffee morning, or a school event – ask people to bring in their best bakes and then gather everyone round to try each one and vote for their favourite. Charge the judges to vote, or even sell the cakes in a bake sale!
A Bake Off is an easy and fun way to fundraise – just pick a date, let everyone know, and ask for cake and money donations.
When to Bake?
Bake Offs can be held all year round!
Where should I host it?
You can host it wherever you like. It could be a:
coffee break at work
at school or college
coffee morning with your neighbours and friends
at mum & baby or toddler meetings
at your local sports club
as part of any community group meeting e.g WI, Rotary, Brownies, Guides etc..
What should I do with the money raised?
After you've held the event, please send the funds you have raised to:
Fundraising
Medical Detection Dogs
3 Millfield
Greenway Business Park
Winslow Road
Great Horwood
Milton Keynes
MK17 0NP
Thank you!
Download your event pack today
Download your free Bake Off fundraising pack. This contains hints and tips, invitations, posters, bunting, price tags and some recipes for you and your four legged friend to try.