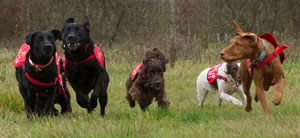 About Medical Detection Dogs
About Medical Detection Dogs
Frequently asked questions about Medical Alert Assistance Dogs
​How long is the waiting list for a Medical Alert Assistance Dog? Once the completed application is received the waiting list is 18 months, depending on individual requirements and the severity of the medical condition.
How many Medical Alert Assistance Dogs do you have? We have placed over 80 throughout the country.
Which conditions do you train Medical Alert Assistance Dogs for? We currently train dogs to assist people living with Type 1 diabetes, Addison's, severe nut allergy, and PoTS. We will also consider individuals with other life threatening conditions.
Please note, we do not train dogs to alert to epileptic seizures. For seizure alert dogs please visit www.support-dogs.org.uk
What costs are covered by the charity? We do not make any charge for our dogs and during the training period we pay for the dog's insurance, veterinary fees, medical supplies, equipment, toys, training and food. Once the dog is placed, the client takes over financial support.
Does the charity cover the whole of the UK? We cover the whole of England, Wales and Scotland, and have applications for dogs from all areas.
Can Medical Detection Dogs train family owned dogs? Sometimes people approach us with a pet dog that is showing signs of alerting to their particular condition. If the circumstances are appropriate we will provide support to the client to train their dog and help the dog to become a qualified assistance dog. For further details please follow this link.
How are dogs trained? Dogs are trained using scent and breath samples collected from the client when they are experiencing an episode. The dogs are trained to identify the unique odours.
At what age are dogs trained? Dogs are usually ready for advanced training and placement with their new owner at around 18 months old, but this depends on the dog and breed as they have to be mature enough to begin the process.
How do the dogs alert their owners? Dog alerts need to be clear and persistent, as our clients often have no awareness of an imminent "episode". The dogs are with their owners 24/7 and alert during both the day and night. Dogs are trained to alert by either jumping up and/or licking strongly. The type of alert will vary depending on the needs of the client.
How do you ensure the Medical Alert Assistance Dogs are able to get enough sleep when, as part of their role, they often wake at night to alert their owner? Most dogs will sleep between 12 and 18 hours a day.  Active assistance dogs will sleep less than sedentary pets as, it is thought, dogs have a tendency to sleep when nothing stimulating is happening.  Dogs also have a much easier time of scheduling their sleep as they are able to simply shift their sleeping time to whatever time is available.
Dogs have sleep cycles in which they experience periods of quiet, restful sleep, interspaced with periods of REM (rapid eye movement) sleep. Dogs cycle through the various stages very quickly (15 minutes) compared to humans (90 minutes). This means that they are well suited to interrupted sleep patterns.
For example if you are at home in bed and at 3.00 am someone tries to break in to your house you would expect your dog to react. The dog has not been waiting for someone to break in but has reacted to the event. In the same way the Medical Alert Assistance Dogs react when they smell the change in odour associated with their owner's medical condition.
How accurate are Medical Alert Assistance Dogs? We regularly monitor the performance of all our Medical Alert Assistance Dogs, collating data of the alerting behaviour normally exhibited by the dog and calculating true alerts and false positives.  The partnership does not qualify until alerting accuracy reaches 90% or above, with a false positive rate of 10% or less. At Medical Detection Dogs we ensure all our dogs are closely monitored for alerting performance, behaviour and their effect on the individual's health and wellbeing. Our stringent criteria mean every client regularly tests their blood and the dog becomes an additional aid alongside continuous careful management of their condition.
Which associations do Medical Detection Dogs belong to? Medical Detection Dogs is a member of Assistance Dogs International (ADI), Assistance Dogs Europe (ADEu) and Assistance Dogs UK (ADUK), and all our Medical Alert Assistance dogs are fully accredited assistance dogs.
Are there any other organisations that provide Medical Alert Assistance Dogs in the UK? Medical Detection Dogs is the only organisation in the UK that is a full member of Assistance Dogs International, and the only organisation which trains fully accredited diabetes alert assistance dogs.
What is Medical Detection Dogs' view on non-accredited diabetic assistance dogs? Medical Detection Dogs is very concerned about untrained non-accredited dogs being supplied to alert to low and high blood sugars for people with Type 1 diabetes. It has been brought to our attention that at least one organisation has been training and selling these dogs for profit but not providing an aftercare monitoring or follow-up service.
How do you know a dog is accredited? All Medical Detection Dogs' coats carry the ADUK logo and all clients carry the ADUK passport or an official "in training" letter prior to qualification. Non-accredited dogs can be identified by the absence of this logo.
Please be aware that we are not able to provide documents or assist with taking dogs on flights, unless the dog is an accredited Medical Alert Assistance Dog, via our training programme.