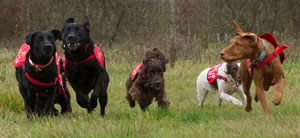 About Medical Detection Dogs
About Medical Detection Dogs
Where do you get the dogs from? Dogs can be donated by members of the public, breeders, other assistance dog charities and rescue centres. The temperament of the dog is very important (Medical Alert Assistance Dogs should be very "people orientated"), as is a good sense of smell.
What help does the charity need? To continue our ground-breaking work we require donations and volunteers to support the work we do.  You can help by sponsoring one of our puppies, or by helping pay towards the training of a Medical Alert Assistance Dog. We also have lots of supporters who raise money through challenge events, details of which can be found on the website. Additionally we need: volunteer socialisers, for puppies and dogs to begin the socialising process; volunteer families who are happy to look after one of our 'bio-detection dogs' on a full-time basis; and volunteer fosterers who will look after our dogs on a temporary basis. We could not continue without our fantastic volunteers who help with fundraising, give talks, do administration (at our training centre and in their own homes) and help with events. To join them contact [email protected]
How much does it cost to train a dog? The total cost of training and placing a Medical Alert Assistance Dog is £29,000.
Can I donate a sample for you to use in your research? Unfortunately, in general, we are not permitted to accept samples for our research studies outside of the agreed NHS clinics and academic units we are collaborating with. All our NHS studies are governed by strict ethical and management regulations. At certain times however we may in a position to accept samples for use outside of our clinical trials, for internal training and demonstrations.
Do you take on placement students? Due to rapid expansion and workload Medical Detection Dogs is only able to offer a limited number of opportunities for students, and prefer longer term 'intern' positions.