Which odours indicate disease?
Dogs detect odours both direct from the source and as residual odours that persist in an area long after the source has left. Odour molecules are chemicals that can be dissolved in water, and they need to be small enough to be volatile so that they can vaporise and, having reached the nose, can then be dissolved in mucus.
The Medical Detection Dogs are trained to discriminate between different Volatile Organic Compounds (VOCs)
In the human the normal metabolic processes are altered in disease and this may result in the production of volatile organic compounds (VOCs) which diffuse into the blood stream and are then excreted in breath or in urine [6]. Dogs can detect these VOCs at an incredible, tiny concentration of 0.001 parts per million. [7]. However it should be noted that training a dog to detect the "odour fingerprint" for a particular type of disease among the thousands of odours normally found in a sample of breath, urine, blood or faeces without recourse to the "pure source" is extremely challenging. [8]. In addition the dog has to learn to ignore the vast number of background odours. Thus, training a Medical Detection Dog is more complex than training a dog to detect explosives or drugs.[9]
Some of the Medical Detection Dogs trained to detect specific VOCs are shown below.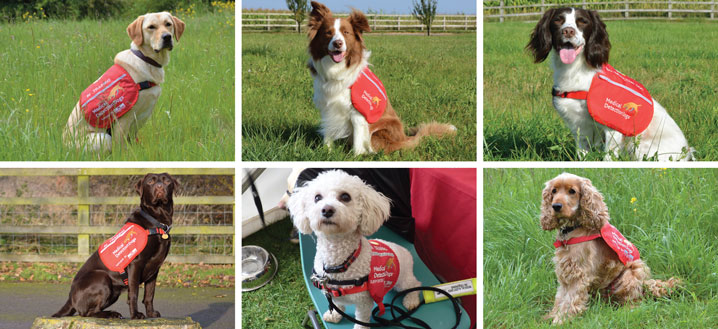 [6] Haick H, Broza Y Y, Mochalski P, Ruzsanyi V, Amann A. 'Assessment, origin and implementation of breath volatile markers'. Chem. Soc. Rev. 2014;43: 1423-1449 D0I :10 1039/c3cs60329f. Review article[7] Waggoner L P, Jones W, Williams M, Johnston J M, Edge C, Petrousky J A. Effects of extraneous odours on canine detection. In:DePersia AT Pennella JJ (eds) Enforcements and Securities Technologies: Proc.SPIE, vol. 3575,1998:355-62[8] Willis CM, Church SM, Guest CM, Cook WA, McCarthy N, Bransbury AJ, Church MRT, Church JCT Olfactory detection of human bladder cancer by dogs:proof of principle study. BMJ 2004;329:712.[9] Guest CM. The Science Behind Medical Detection Dogs. The Sniff . Spring/Summer 2014