Volunteering with Medical Detection Dogs
with Medical Detection Dogs
Medical Detection Dogs need a national network of speakers to help promote awareness of the charity and raise funds to support and train our dogs. The role is an important one as often this is the first time that people will have heard about the charity. Speakers also raise much needed funds and encourage others to fundraise in various ways for example by leaving a legacy in their will or organising a fundraising/sponsored event on our behalf.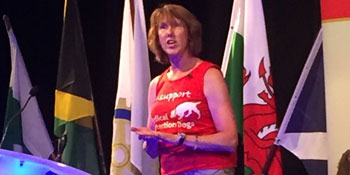 Some frequently asked questions:
What type of groups do speakers address? Speakers visit groups such as Lions and Rotary Clubs, Women's Institutes and Guilds, Brownies and other similar youth groups, schools, etc.
How will I know what to talk about? We have produced materials to support anyone speaking on our behalf. We organise 'Speakers Training Days' and offer the chance to visit our training centre at Great Horwood. The training sessions include the sharing of ideas, tips on addressing audiences, and up-to-date information, as well as giving you the opportunity to meet other speakers and members of staff. It is possible that regional training sessions could be oganised, depending on numbers.
How will I keep up to date with relevant information? A newsletter is sent to all voluntary speakers giving up-to-date information and stories to help you keep your talk current and relevant. You will also receive regular puppy updates and charity newsletters.
How many talks would you expect me to give? This is entirely up to you! We just ask you to do as many, or as few, talks as you wish that are convenient to you.
How far would you expect me to travel? Again this is your choice.
How are talks allocated? If a request is received at Head Office it is allocated to the nearest speaker who is available at the time of day required. You are also welcome to organise your own talks.