Volunteering with Medical Detection Dogs
with Medical Detection Dogs
Volunteer roles caring for our dogs
Thank you for your interest in volunteering with our dogs.  We are very proud of our strict no-kennel policy and our dogs live in family homes, so our volunteers are vital to their care, happiness and training.  We specifically need these volunteers to be within an hour drive of our Centre in Great Horwood, Buckinghamshire (please see our FAQs for a list of postcode areas in which we're currently recruiting).
The different roles:
Socialising involves caring for and training a puppy or young dog with the support and guidance of a Socialising Trainer, using reward-based techniques.  It's a full-time commitment (and a very fulfilling one), helping to shape the puppy into a lifesaving adult as either a Medical Alert Assistance Dog or a Bio Detection Dog.  Socialisers need to care for the puppies, bring them to regular classes, and ensure they learn key skills and behaviours, including how to be confident and well behaved on public transport, in supermarkets, and anywhere else they may need to go when working. Some of our Socialisers prefer to look after younger puppies, others when they're a little more mature, and some will look after a puppy throughout its training.
Fostering is the care of Bio Detection dogs. You'll need to be available to take them to and from the Centre on workdays (drop off is between 8.00am and 9.30am and collection is between 16.30 and 18.00), and look after them on their days off. When they're assigned to a project, you'll be given a rota of their workdays, which could be 2 days per month, 5 days per week, or anything in between.
Holiday Cover is essentially short-term fostering; looking after a dog or pup when their Socialiser or Fosterer is unavailable for a period of time.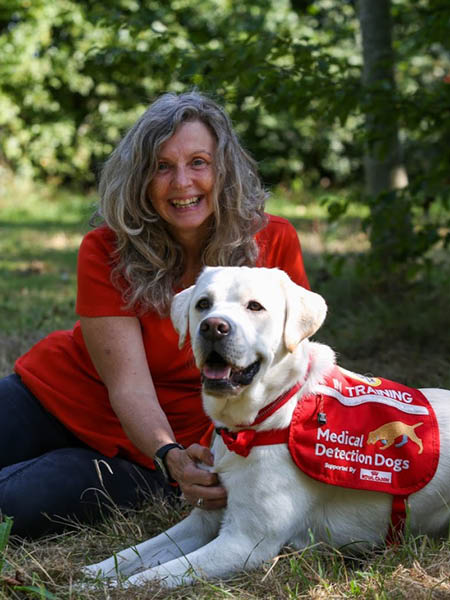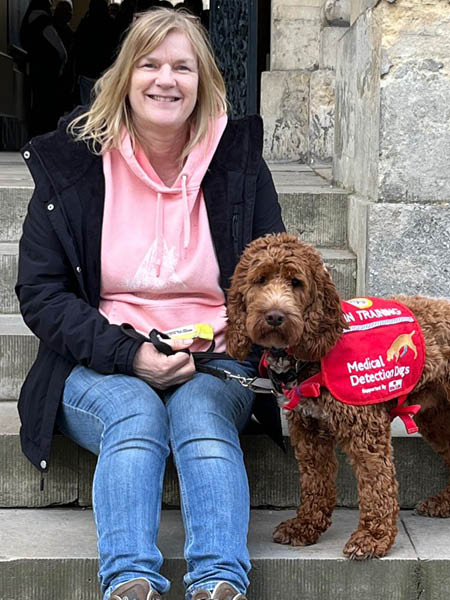 Frequently asked questions about caring for our dogs
What roles are you recruiting for currently?
We're always in need in Socialisers, which is the most vital role to ensure we can keep training puppies to save lives. Whilst we aren't actively recruiting for Fosterers or Holiday Cover currently, we will accept applications for the future if you're happy to wait.
In which area are you recruiting Socialisers / Fosterers / Holiday Covers? 
We need volunteers who live within an hour drive of our Centre in Great Horwood near Milton Keynes, specifically those living in the postcode areas listed below:
| | | | | |
| --- | --- | --- | --- | --- |
| MK1 | MK12 | NN1 | OX17 | HP1 |
| MK2 | MK13 | NN2 | OX20 | HP3 |
| MK3 | MK14 | NN3 | OX25 | HP4 |
| MK4 | MK15 | NN4 | OX26 | HP18 |
| MK5 | MK16 | NN5 | OX27 | HP19 |
| MK6 | MK17 | NN7 |   | HP20 |
| MK7 | MK18 | NN8 |   | HP21 |
| MK8 | MK19 | NN10 |   | HP22 |
| MK10 | MK43 | NN12 |   | HP23 |
| MK11 | MK46 | NN13 |   | LU7 |
|   |   | NN29 |   |   |
What is provided by the charity?
Support: Each Socialiser/Fosterer is assigned a trainer to provide support, advice and training guidance.  Our Health & Welfare team is also available to support you with any concerns about the dog's wellbeing, including emergency out of hours contact.  Our Volunteer Manager is available for support with any other aspects of your role with the charity.
Food: Our dogs and puppies are fed on Royal Canin, who will deliver to your door at no cost to you.
Medical: All of the dog's health needs are covered by Medical Detection dogs; insurance, grooming, welfare checks, worming, flea treatments and vaccinations.
Equipment: We will provide all the essentials; bowls, bedding, lead, collar, crate, training aids etc.
Is previous dog experience necessary?
No, we will provide training and support, but it's important that the members of your household are calm and confident with dogs.
How often would I have to bring the dog to the Centre?
Socialisers need to attend a class with their trainer fortnightly, which are often held at the Centre.
Fosterers need to be able to bring the dog to work at our Centre in Great Horwood up to 5 days a week when on a project, but at times it could be as infrequent as 2 or 3 days a month.
What if I work full-time?
Socialising a puppy requires a lot of attention, so in most cases it isn't possible for someone with a full-time job to be the primary carer within the household. Socialisers also need to be available to attend regular classes, and to take the puppy out for socialisation and training trips three times a week (at supermarkets, high streets, on public transport etc.).
Fostering our Bio Detection Dogs will need care on the days they aren't working here at the Centre; taking the dog to work or working from home can give the dog the company they need.
Can I look after a Medical Detection Dog if I have children?
Many of our puppies and dogs live with children – placing a puppy or dog with a family is considered on a case-by-case basis.
Can I look after a Medical Detection Dog if I have a pet dog?
We'll need to meet your dog, but many of our puppies and dogs live with other dogs, so this needn't be a problem. We do ask that your pet dog has up to date vaccinations and flea/worming treatment.
Can I look after a Medical Detection Dog if I have a cat or other pets?
Yes; many of our puppies and dogs live with other pets. Small animals will need a safe enclosure.
Can I look after a Medical Detection Dog if I have health issues?
To be a Socialiser you will need to be fit enough to keep up with a puppy.  We will ask about health conditions within your household as part of the application process, as we have to ensure the puppies don't become desensitised to the odour of a condition we later need them to detect.
For Fostering or Holiday Cover, you'll need to be physically capable of meeting the dog's exercise needs; many of our Bio Detection dogs come from working Gundog lines and have more energy than the average pet dog.
How long can a Medical Detection Dog be left alone?
Dogs can be left for a maximum of four hours a day but younger puppies will need full-time care and attention.
What are the typical breeds of Medical Detection Dogs?
Most commonly, Medical Detection Dogs are Labradors / Labrador crosses and Spaniels / Spaniel crosses, but we also have other breeds such as Miniature Poodle, German Shorthaired Pointer, Flatcoated Retriever, Dachshund and Hovawart.
What if I live in a rented property?
If you do not own the property, your landlord will need to provide written consent for you to have a dog.
What happens when a Fosterer or Socialiser goes on holiday?
If you go on holiday and the dog is needed at the centre or isn't joining you for another reason, we'll organise for the dog to stay with another volunteer while you're away.  The same applies if you're unable to look after the dog due to illness or other personal circumstances.
How long will a dog stay with me?
Puppies join us at 8 weeks old and live with a Socialiser until they're approximately 18 months old, but as part of the development of the puppy, they may move to another Socialiser within that period. Fostering is usually a long-term commitment; many of our dogs stay with their original Fosterer throughout their life.
Can I Socialise / Foster a Medical Detection Dog if I am a smoker?
We can only place dogs in smoke-free homes as the health and wellbeing of our dogs is paramount.  Dogs exposed to second-hand smoke have more eye infections, allergies, and respiratory issues than those living in a smoke free home.  Studies have shown the risk of nasal cancer in long nosed breeds – like most of our dogs – is increased by 250% when living in a smoky environment.
Any other questions?
Please call us on 01296 655888 and we'll be happy to answer any other questions you have.
Apply to care for our dogs
Do you have the time and commitment required to give one of our dogs a loving home and bring the dog to the Centre for classes / scent work as required?
Are you over 18?
Do you live in one of the postcode areas below?
| | | | | |
| --- | --- | --- | --- | --- |
| MK1 | MK12 | NN1 | OX17 | HP1 |
| MK2 | MK13 | NN2 | OX20 | HP3 |
| MK3 | MK14 | NN3 | OX25 | HP4 |
| MK4 | MK15 | NN4 | OX26 | HP18 |
| MK5 | MK16 | NN5 | OX27 | HP19 |
| MK6 | MK17 | NN7 |   | HP20 |
| MK7 | MK18 | NN8 |   | HP21 |
| MK8 | MK19 | NN10 |   | HP22 |
| MK10 | MK43 | NN12 |   | HP23 |
| MK11 | MK46 | NN13 |   | LU7 |
|   |   | NN29 |   |   |
If you answered yes to the questions above, we'd love to hear from you!  Please click here to apply:
If you're unable to answer yes to those questions, unfortunately we're unable to place a dog with you. Thank you for your interest, there are other ways to support our work and we'd love your help: