Volunteering with Medical Detection Dogs
with Medical Detection Dogs
If you enjoy fundraising and want to make a real difference to the work we do then why not become an active fundraiser for Medical Detection Dogs? You can have fun, build up your CV, meet lots of new friends, learn new skills and contribute directly to a really worthwhile cause. The charity is funded purely by voluntary contributions, without our fundraisers Medical Detection Dogs cannot continue to support people with life-threatening health conditions. We are looking for people from all over the UK to help us fundraise, whether it's collecting at a local supermarket, taking part in a fun run, or organizing an event. It doesn't matter how much time you can give – some events are one-offs and others require a greater commitment, but everyone can get involved.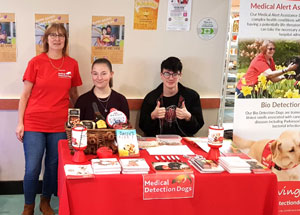 Collection Box Co-ordinators
If you have very little spare time, but would still like to make a BIG difference to the charity, you could leave collection boxes with local businesses such as vets, petrol stations, chemists, bakeries, newsagents, pubs, hairdressers, garden centres or pet shops. The role of 'collection box co-ordinator' includes identifying potential box sites, picking up the boxes when they are full, leaving new boxes in their place and then counting and banking the money for Medical Detection Dogs.
Leaflet Distribution We need people to help distribute Medical Detection Dogs literature and put up posters, locally to you; your place of work, local library, garden centre, school, doctor or dentist surgeries. – as many places as possible. If you are happy to identify suitable locations, arrange permission with the owners and deliver supplies of various leaflets and posters please let us know. If you are interested in becoming a fundraiser please contact our Volunteer Coordinator email [email protected] or telephone 01296 655888